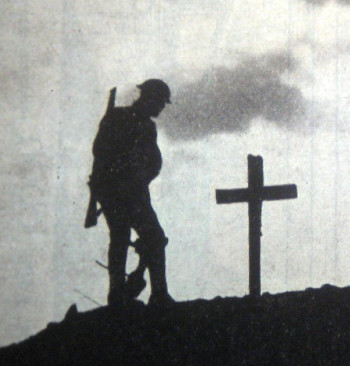 Arthur Killingworth Bourne Brandreth
Pte 23rd (Service) Btn Royal Fusiliers PS2492
Died: 01-11-1916 age 36
Arthur was the only child of Joseph Pilkington Brandreth and his wife Eva Jane nee Hedges. His father, grandfather and numerous other male members of both his father's and his mother's family, were Anglican clergymen. They were also people of means and did not rely on church 'livings' to support their lifestyle. His father and grandfather had been educated at Eton and Christ Church College, Oxford which was the expected route for a gentleman and prospective Anglican ordinand to follow.
Arthur was born on 10 January and baptised on 15 February 1880 at the Anglican Parish Church of St Oswald, Malpas, Cheshire, where his father, who was a curate there, performed the baptism ceremony. His early years were spent in Cheshire, living at Cuddington Lodge, Malpas, whilst his father became, in turn, vicar of Shocklack and  then Rector of Tilston. The family spent one year in Standish, Wigan after Arthur's grandfather died, whilst Arthur's father temporarily took over his 'living'. Then, when Arthur was six years old the family moved to Hove, Sussex, as his father had been appointed licensed preacher in the Diocese of Chichester. Arthur's parents continued to lived in Hove for nearly twenty more years.
Arthur may first have attended a local school in Hove, before leaving to attend St Kenelm's College. This was probably the Anglican prep. school in Oxford, which catered particularly for the sons of clergymen who desired an Anglican High Church education for their children. At the age of thirteen Arthur left St Kenelm's to further his education. However, instead of going to Eton, Arthur became a cadet on the School Ship Conway. This was a converted sailing ship, moored in the River Mersey, near Rockferry. Here young men were educated to provide the officer class of the Mercantile Marine service. Arthur was there from September 1893 until the end of 1895, two to three years being the average period of tuition at this time. He was at Conway at the same time as John Masefield, who wrote many poems about the sea and eventually became Poet Laureate. Brandreth would also have met Laurence Kirby, nephew of Edmund Kirby, the architect. Kirby was at Conway during 1894, before leaving to go to Stonyhurst. In his naval and academic reports Brandreth is described as 'Good' or 'Fair' but he seems to have maintained rather a low profile, not being a member of any school teams or societies. On Wednesday 19 June 1895 Arthur Brandreth was confirmed by the Anglican Bishop of Birkenhead, Bishop Royston. He had been appointed Petty Officer (a type of cadet prefect) for the Armoury at the beginning of the Autumn Term of 1894 and maintained this position until he left Conway.
Exercising his penchant for doing the unexpected, Arthur does not appear to have joined a merchant marine ship after he left Conway. Instead he became an apprentice engineer at Messrs Laird of Birkenhead. Little is known of this next phase of his life but it would appear that at some stage during the next five years Arthur Brandreth was received into the Catholic Church.
In 1901 Arthur was in lodgings at 10 Charlecombe Street, Birkenhead. Then he is found working as a draughtsman for the London and North Western Railway, from 1902-04. His railway records state that he had been given a reference by Messrs Vickers and Maxim, Barrow-in-Furness, so presumably he had worked for this firm as well as for Laird's. He may have been working for the L.&N.W.R. at Crewe, because his article on the history of plain chant, which he sent for the March 1904 edition of St Werburgh's Parish Magazine, was sent from Crewe.
Leaving the railway drawing offices in December 1904, Arthur lived on his own means and indulged his interests in Church architecture and music. He sang at High Mass in many Catholic Churches and in 1905 was choirmaster at St Ignatius R.C. Church in Sunbury-on-Thames, the area from which his mother's family had originated. By 1906 he was a resident of Lowestoft.
From 1904 onwards it is clear that Arthur Brandreth donated generously to St Werburgh's Chester. It is certain that he donated a lectern and some vestments. It is also probable that he donated a cope, further sets of vestments, four small stained glass windows and a large (Assumption) window, the latter in gratitude for his reception into the Catholic Church. He probably made the acquaintance of the church architect and priest, Benedict Williamson, during this time and certainly visited St Giles R.C. Church, Cheadle, Staffordshire, known as 'Pugin's Gem'. He maintained a small house in Birkenhead and most probably became friendly with the whole Kirby family of Birkenhead, Edmund Kirby being the architect of St Werburgh's Church, Chester.
In 1907 Joseph Pilkington Brandreth was appointed licensed preacher in the Diocese of Oxford, though he had taken a house in Kintbury, Hungerford, Berkshire, where he lived until his death in 1941. It may not be a coincidence that also in 1907 Arthur matriculated to Pembroke College, Oxford. However, as by now we are coming to expect, Arthur did not display the slavish devotion to his set studies as might be expected of a more normal student. He continued to study Church architecture and music in his own inimitable fashion.
By 1909 Arthur was resident in Parkfield Avenue, Birkenhead. In February 1910 Arthur Brandreth sang from the lectern in St Werburgh's Church, Chester at the High Mass celebrated there by the Bishop of Shrewsbury, on the occasion of St Werburgh's Feastday. In 1911 he was living in Price Street, Birkenhead.
Unsurprisingly, given the range and depth of his extra-curricular activities, it was not until 8 February 1913 that Arthur obtained his B.A. and 30 April 1914 his M.A. His B.A. was gained by the pass school examinations. These examinations were taken by those students who were deemed unlikely to achieve an honours degree. Arthur took examinations in Political Economy, History, English Literature, and French.
In 1915 Arthur Brandreth was elected a life member of the Manx Society. This was an organisation which published a magazine 'Mannin' to provide Manx countrymen at home and abroad with a means of publishing matters of interest to all Manxmen, and so keep them in closer touch with each other. However, there is no obvious connection between Brandreth and the Isle of Man. His election was noted in the 1915 issue of Mannin. His enlistment was noted later in 1915 and afterwards his death in 1916.
Arthur drew up his will in 1910, well before the start of the Great War, leaving the bulk of his estate to building and other projects in Catholic Churches. He left detailed instructions concerning these projects. Many aspects of work at St Werburgh's were to be carried out by Benedict Williamson, if he were available. If he were not, then Edmund Kirby or someone recommended by him was to complete the work.
When war broke out Arthur enlisted with the Royal Fusiliers, as a private soldier. Again, a person of Arthur's background, who also had army officers within his family, might himself have been expected to join as an officer. This was not the case. Arthur doubtless had his own reasons for enlisting in this manner but they were not made public. 
Arthur's enlistment papers have not survived, so we have few details of his army career. According to St Werburgh's Parish Magazine of January 1917, Arthur Brandreth first enlisted at the beginning of the war, with the Welsh Fusiliers. After training he was transferred to the Royal Fusiliers. His Medal Roll Card reveals that he joined the Royal Fusiliers, City of London Regiment, enlisting at Liverpool (PS2492).
Arthur first entered France on 14 November 1915 and was killed there on 1 November 1916. This would indicate that he had been killed towards the end of the second Battle of the Somme. From September to the end of October 1916 Brandreth's Battalion was stationed at or near Raincheval, near Amiens. This area came under heavy German mortar attack due to its situation near a railhead and for other logistical factors. Arthur knew that he would be going into the front trenches in a few days time. He had already added five codicils to his will, as and when further inspirational ideas had occurred to him. On 24th October 1916 Brandreth added his sixth and last codicil. He greatly admired the lovely spire at the church in Raincheval. His codicil asked that his previous plans for a spire at St Mary's R.C. Church, Crewe should be ignored and a spire similar to the one on the French Church substituted. He described this new spire as progressing gradually, by small steps, towards heaven. He also altered his previous plans for St Werburgh's. He directed that a statue of St Werburgh in red sandstone, 5ft high be placed in the niche on the south side of the church, adjacent to the pulpit. The codicil was written on a leaf of paper torn from a notebook, witnessed and proved later to be quite legal, though, like Arthur himself, rather unusual. Arthur's unit took its place in the front trenches on 30 October 1916 and Arthur was killed there on 1 November 1916.
His obituary was printed in the January 1917 edition of St Werburgh's Parish Magazine and his name is on the WW1 Memorial Boards of the School Ship H.M.S. Conway, Pembroke College Oxford, St. Ignatius' R.C. Church, Sunbury-on-Thames and St Mary's Catholic Church, Crewe. He is also commemorated on the Thiepval Memorial. Arthur was entitled to the 1914-15 Star, the British War Medal and the Allied Victory Medal.
There is a memorial tablet to Arthur Killingworth Bourne Brandreth in St Giles R.C. Church, Cheadle, Staffordshire, the 'Pugin Gem' which Brandreth particularly admired. He left £2,000 in his will for the support of a priest at this church and also requested that his own memorial should be placed there, should he die and be buried abroad. It seems possible that his friend Benedict Williamson, who was a Catholic Chaplain during the Great War, composed the epitaph for this memorial.
Surprisingly, Brandreth's name is not on the WW1 memorial boards of most of the churches which received an endowment under his will. His somewhat grandiose plans for church building projects also proved, in many cases, too expensive to be implemented using the allotted funds. However, here in St Werburgh's we are particularly fortunate to have our lovely altar and two stained glass windows, all designed in outline by Arthur Killingworth Bourne Brandreth and installed using his bequest. Truly these are a fitting memorial to this unusual man.