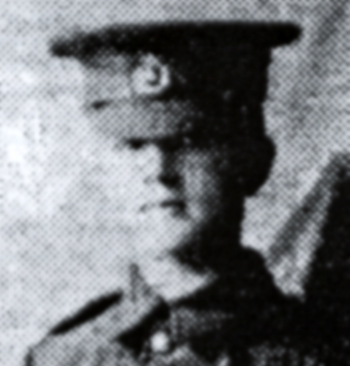 John Vincent Campion
Pte Plymouth Btn Royal Marine Light Infantry, Royal Navy Division PLY/17490
Died: 07-01-1916 age 19
Vincent Campion was the third surviving child of Peter Campion, a railway worker from Shrewsbury and his wife Honoria (Norah) nee Geary, who had been born in London. John Vincent was born on 5 May 1896 and baptised at St Werburgh's on 24 May 1896. He appears to have been called by the name Vincent in future years. By 1911 the family lived at 5 Egerton Street, Chester, where Peter worked as a railway shunter at Chester Railway Station. Their eldest daughter Teresa and son Joseph worked in a restaurant, whilst Vincent worked in a boot shop. Later he became an assistant to Mr Bithell, a butcher of Christleton Road, Chester. The younger children Genevieve and Nora were at school, whilst Pauline age 3 and Thomas age 1 were still at home. Six other children had not survived infancy. Another child, Bernard, was born in March 1914. Bernard attended St Werburgh's Schools, gaining a place at Central School in Chester when he was age 11. It is likely that the other Campion children, including Vincent, had also attended St Werburgh's Schools but no registers from earlier times have survived.
The eldest son of the family, Joseph Peter, enlisted with the 5th Btn Cheshire Regiment, probably some time between 1911 and 1914. He entered France in May 1915 and later he transferred to the Labour Corps. From the time he entered France, until he was wounded and sent for hospital treatment at Stoke-on-Trent, Joe sent letters to the Chester Chronicle, describing the duties of the 'Tommies in the trenches'. They always seemed to be cheerful letters and gave news of as many Chester soldiers as possible. Joe survived the war and was discharged in March 1919.
Vincent probably enlisted in 1915 at Liverpool and after training in this country embarked with the Royal Marine Brigade on 24 June 1915, joining the Battalion at Cape Helles on 18 July 1915. Vincent was wounded at Gallipoli and was evacuated to a hospital ship. He died on 7 January 1916 and was buried at sea.
John Vincent Campion was entitled to receive the 1914-15 Star, the British War Medal and the Allied Victory Medal. His name is on the Plymouth Naval Memorial and the Memorial Board in Chester Town Hall.