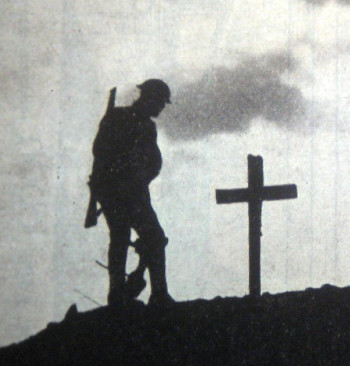 Joseph Michael Coghlan
Cpl "Y" 20th Trench Mortar Bty Royal Horse Artillery 13429
Died: 19-06-1918 age 24
Joseph was the son of Patrick and Catherine Coghlan, nee Farrell, of Chester. The Farrell family was long established at St Werburgh's. In 1871 Thomas Farrell and his wife Hannah, who were both born in Ireland, lived at 22 Railway Terrace in Chester. Thomas was a Police Sergeant and they had been living in Chester for about 9 years. Their eldest child Michael, then age 10, had been born in Ireland but 8 year old Catherine and 2 year old Charles had been born in Chester. Also living in the house was a lodger, William Healy.
In 1881 the family had moved to 7 Carter Street and Thomas had been promoted to Police Inspector. Kate was teaching in a day school and Charles was still a school pupil. This time there are two boarders living in the house, Patrick Coghlan an Excise Officer and Daniel Offerlehy.
Shortly after this census, Patrick and Kate were married. Their first two children, John Charles and Thomas Daniel, were born in Chester in 1885 and 1887 respectively and both were baptised at St Werburgh's. Some time later the family moved to Burnley where another child, Nora, was born and died in 1890 age 1 year. In the 1891 census the family, consisting of parents Patrick and Kate with son Thomas are living at 2 Hallwell Street, Burnley. Joseph Michael was born there in late 1893 and his mother Catherine died there on 22 October 1893 and was buried in Overleigh Cemetery, Chester.
It seems that Patrick then moved back to Chester, with his two sons, so that their Farrell grandparents could help look after them. In 1896 Patrick married Eliza Rose Pearson at St Werburgh's. They lived at 10 Lord Street, Chester. In 1897 their son Benjamin Patrick was born, baptised at St Werburgh's and sadly 3 months later died. The child was buried in Overleigh Cemetery.
In the 1901 census father Patrick is living in Alloa, Scotland with his second wife, his elder son Thomas and his two daughters, Mary and Elsie. Joseph is living at the home of his Farrell grandparents, together with his uncle Charles, a widower, and his three children. Joseph's grandfather Thomas Farrell died in 1902 and in the 1911 census Joseph, who works as a groom, continues to live with his grandmother Hannah, his uncle Charles and his three cousins, at Bold Place.
As Joseph's enlistment papers have not survived, little is known of Joseph's military service. His medal roll card reveals that he entered France on 6 October 1914. Whilst there he was promoted to Corporal and also awarded the Medaille Militaire (France). He must have survived several major battles and occasions of danger before he eventually died on 19 June 1918. His effects were transferred to his grandmother Hannah Farrell.
Joseph was buried in Grave IV.D.6 in Sucrerie Cemetery, Ablain-St Nazaire, France.  He was entitled to receive the 1914 Star, the British War Medal and the Allied Victory Medal.