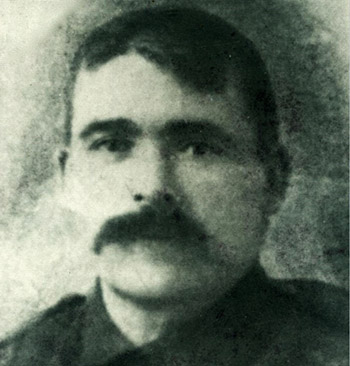 James Condon
Pte 1/8th Btn King's Liverpool Regiment 3541
Died: 12-09-1916 age 44
James Condon was born in Ireland, the son of Martin and Bridget Condon of Fermoy, County Cork, and married Elizabeth Mary Evans of Llanberis, Wales, in 1897. James had served with the Royal Welsh Fusiliers Volunteer Battalion and entered civilian life when his term of service ended in April 1898. James then worked for the London and North Western Railway and for 13 years was a guard, living at 17 North Street, Mold Junction near Saltney. Most of his family of seven children were born there. All the children were baptised in St Francis' Church, Chester. After leaving the railway, James was employed as a galvaniser at John Summers, of Shotton.
By June 1913 the family had moved to 51 Francis Street, Chester, in St Werburgh's Parish. James' wife, Elizabeth Mary, was received into the Catholic Church at St Werburgh's on 20 June 1913. On 3 November 1913 James enlisted with the 5th Cheshire Regiment of the Territorial Force, for a period of 4 years, whilst still continuing with his employment at John Summers. He attended a 2 week camp at Rhyl in June 1914 and was embodied into the Cheshire Regiment on 5 August 1914 at the outbreak of war. However, he was discharged on 12 December 1914 owing to chronic rheumatism. He then enlisted on 29 December 1914 with the 8th (Irish) Battalion of the King's Liverpool Regiment. He did service at home until 3 May 1915 when he was sent to France. On 23 May 1915 he was transferred to 176 Company, Royal Engineers. However he was described as not suitable for tunnelling work and on 25 June 1915 was returned to his former unit.
Around March of 1916 James was home on leave for the first time and was said to be looking fit and well. He then returned to duty in France. In May 1916 James was commended for gallantry in action whilst raiding a German trench, on the night of 17-18 April. A letter from a Major-General stated that the event had been placed on record.
On 26 August 1916 James received multiple wounds to head, chest and arms. He was probably transferred to the casualty clearing station No. 21 at La Neuville. He died of gunshot wounds to the head on 12 September 1916. Pte James Condon was reported killed in action in the October 1916 edition of St Werburgh's Parish Magazine.
James was eligible for the Allied Victory Medal, the British War Medal and the 1914-15 Star, all of which were sent to his wife Elizabeth at 51 Francis Street, Chester on 18 March 1919. She also received his effects, which consisted of an identity disc, a pipe, a pouch of tobacco, a match box cover and a purse. She was allowed a weekly pension of 27 shillings with which to support herself and five dependent children.
James is buried in Grave II. D. 17 of La Neuville Cemetery, Corbie, near Amiens, Somme, France. His name is listed on the WW1 Memorials in the Town Hall and St Werburgh's Church, Chester.