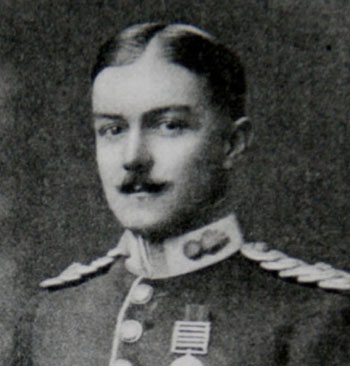 Theodore Crean
Captain, 1st Btn Northants, latterly served with 4th Squadron Royal Flying Corps
Died: 26-10-1914 age 34
Theodore was one of three children and the only son, born to Dr Richard Crean and his wife Lucy Mary nee Bolongaro, of Manchester. He was born in Manchester on the second of October, 1880 and was educated at first privately. He then went to Stonyhurst in January 1894. There were apparently health concerns and the College was warned that Theodore might have to be taken away if the regime was too arduous. The College was also warned to notify the parents of the slightest medical indisposition. Despite this, Theodore seemed to suffer no problems during the five years he was at Stonyhurst, taking a school prize for Latin verse before he left in December 1898. He then took the Part I Examinations in June 1899 and was admitted to Gonville and Caius College, Cambridge on the second of October 1899. He took Part II Examinations in December 1899. Crean kept only three terms at Caius, throughout which he was cox of the College Boat.
During 1899 the Boer War (1899-1902) broke out and Theodore was commissioned in the 6th Btn Lancs. Fusiliers in Sept 1900. He served in the South African War 1901-1902, both in the Transvaal and Cape Colony. He was also at Kimberley and gained the Queen's Medal with five clasps. In 1902 he was gazetted to 2nd Lieutenant in the 3rd Btn Lancs. and Lieutenant in 1904. In 1908 he transferred to the Northants. Regiment and in 1911 was seconded to the West African Regiment. He obtained his company in 1913. Theodore returned to England just before the outbreak of WW1 and was co-opted to the Royal Flying Corps, 4 September 1914.
Theodore's father Richard had died in 1903 and his mother and two sisters came to live at 68, Hough Green, Chester. This was Theodore's home address when on leave. Mrs Crean became president of the Ladies of Charity at St Werburgh's and was also a benefactor of this church.  However, Crean's younger sister Gabrielle was married at St Francis, Chester, as Hough Green falls within that parish. She married John Allan McKenna Gillow on 24 April 1912.
On 26 October 1914 Theodore and another officer, Lt C.G. Hosking, were on a low flying mission in a BE2 aircraft, observing the results of British artillery fire on German positions and signalling the information back for guidance of British artillery. They were apparently performing a very useful service, but one which entailed flying at particularly low levels. Their plane was hit by machine gun fire from the ground and crashed in flames. Both officers were interred together in a battlefield burial at Gheluvelt, between Ypres and Menin. During subsequent military action the graves were obliterated and so the two officers are listed on the Arras Memorial to the missing. Their loss so early in the war was even more poignant as there are some indications that it may have been the result of 'friendly fire'.
Theodore's name is listed on the WW1 Memorials at Stonyhurst College and in the Town Hall, St Francis Church and St Werburgh's Church, Chester. He was eligible for the 1914 Star, the British War Medal and the Allied Victory Medal.