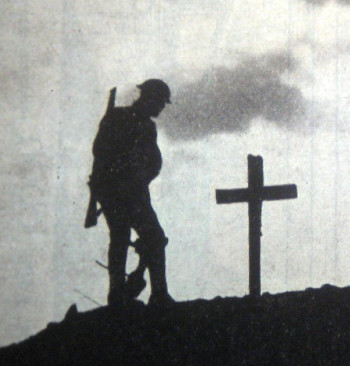 John Crimes
Lance Cpl 1st Btn Loyal North Lancashire Regiment 7771
Died: 31-10-1914 age 29
John Crimes was the eldest child of John and Mary Crimes nee Kelly, who were both Cestrians. He was born in 1884 and had two younger brothers, Joseph and James. John's father was a plasterer and in 1891 the family lived at 8 Crane Wharf. Sadly John Snr died in 1892 and Mary married John Morris in 1894.
In 1901 the Crimes/Morris family lived in Harrison's Court. John was 17 years old and worked as a bricklayer. By now he had three younger half sisters and a fourth was born later. Sadly John Morris also died towards the end of the decade.
In 1911 the family were living at 9 St Olave Street, except for Joseph, who had married Mary Ann Hopkins at St Werburgh's. Joseph was received into the Catholic Church at around the same time and all John's nephews and nieces were baptised at St Werburgh's. Later in 1911 John married Fanny Hogg at St Michael's Church of England, though the following year they were both received into the Catholic Church at St Werburgh's. Their two children, John and Mary, were also baptised there in 1912 and early 1914 respectively. They lived at 35, Boughton and would seem to have integrated perfectly into parish life.
Then war broke out in August 1914 and disrupted their lives completely. John enlisted immediately, at Frodsham. His army number indicates that he may previously have been in the army and may in 1914 have been part of the reserves. Unfortunately John's enlistment papers have not survived and so details of his army life are rather scant. His medal roll card indicates that John was despatched immediately to France with the British Expeditionary Force, disembarking on 12 September 1914.
>The 1st Battalion, Loyal North Lancashire Regiment was immediately involved in heavy military activity. On 13 September it lost fourteen officers and over five hundred other ranks in its first major engagement of the war, attacking up the Troyon spur to capture a sugar factory. A Regimental memorial at Troyon commemorates their sacrifice.
Those of the remaining 1st Loyal North Lancashires were then engaged in the epic First Battle of Ypres from 23 October, when they made a most gallant and successful bayonet charge at the Kortekeer Cabaret. They then took part in the desperate fighting around Gheluvelt on 31 October, remaining in action until 14 November.
On 31 October 1914 John Crimes was killed in action, most probably in the fighting  near Gheluvelt. His name is listed on the Ypres, Menin Gate Memorial, Panel 41 or 43. He was eligible for the 1914 Star with clasp, the British War Medal and the Allied Victory Medal. His name is listed on the Memorial Boards at St Francis, St Werburgh and the Town Hall in Chester.