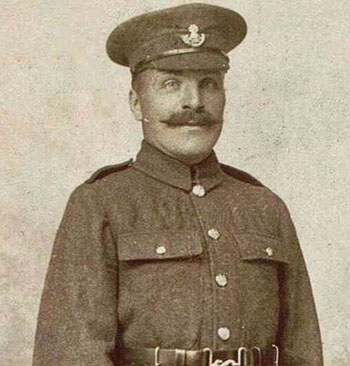 Patrick Cunniff
Pte Kings Shropshire Regiment, transferred to Royal Warwickshire Regiment 203830-260200
Died: 24-09-1917 age 35
Patrick was born in Creggs, County Galway, Ireland on 29 November 1882. He was one of a family of four sons and a daughter. Patrick and his older brother Andrew came to England in the early 1900s and settled in the Boughton area of Chester. Patrick  married Margaret Geraghty, a dressmaker who lived in Steven Street, at St Werburgh's in October 1907. Their first child, Mary Josephine, was born in December 1909 and she was baptised in St Werburgh's in January 1910. Their son John was born in 1912 and was also baptised at St Werburgh's. During this time the family lived at 118 Francis Street and Patrick was employed by Mr Burley, of Hoole Bank Brickworks.
Patrick's enlistment papers have not survived, so little is known of his period in the army. However, it is known that he took part in the 3rd Battle of Ypres, generally known as Passchaendale. Pte Patrick Cunniff was mentioned as having been killed in action in the November 1917 issue of St Werburgh's Parish Magazine. According to a letter sent on 28 September 1917 by the Army Catholic Chaplain, Patrick had been shot as he entered the trenches and died instantly. He was buried on the battlefield, behind the lines the following day. In the Chester Chronicle of 20 October 1917 it stated that Patrick's Captain, Priest and Army Chaplain had all expressed admiration for Patrick's previous conduct and bravery. He was entitled to receive the British War Medal and the Allied Victory Medal
Patrick's two children were brought up in Chester by their mother, Margaret, but sadly Mary Josephine died, due to cardiac problems, age 13. However, their son John (Jack) lived until his sixties. He married Catherine Carrig at St Werburgh's on 17 June 1944, wearing his WW2 RAF uniform.  Jack dies in the 1970s but has family who still live in the Chester area.
Patrick Cunniff is buried in Grave IV.B.43 Brown's Copse Cemetery, Roeux, Pas de Calais, France. His name is listed on the WW1 Memorials in the Town Hall (spelling incorrect) and St Werburgh's Church, Chester.