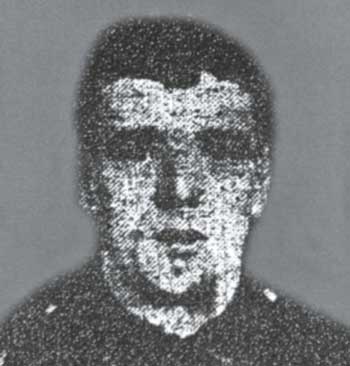 Joseph D'Arcy
Pte 1st Btn Royal Welsh Fusiliers 18199
Died: 18-07-1916 age 23
Joseph was the son of Daniel and Margaret D'Arcy nee Kelly. Daniel had been born in Ireland and Margaret was from Holywell, Flintshire, where the couple were married in 1883. Their first two children were born in Flintshire and the next two were born in Ireland. The couple then moved to Chester, where Daniel worked as a foreman gardener at Dickson's Seeds Ltd, Newton by Chester. They settled here and brought up the rest of their family in Chester. As they changed addresses in Chester, the childen were baptised either at St Werburgh's or St Francis. Daniel John was born in Chester in 1891 and baptised at St Werburgh's. Joseph was born in 1893 and baptised at St Francis. Sadly their mother Margaret died in 1895 and the following year Daniel married Leah Woods, in Chester. Six more children were born to the family, including Amelia in 1904, who died the same year.
In the 1911 census Daniel John and Joseph are living with their father, stepmother, and half siblings William, Hugh, Robert, Elizabeth and Richard at 110 St Anne Street, Chester. Joseph age 17 is working in the Messrs Davies tobacco manufacturers, Canal Street, Chester.
Joseph first enlisted with the 9th Battalion of the Cheshire Regiment, at Chester, on 31 August 1914. He was discharged on 8 October 1914 as being unlikely to make an efficient soldier. Undeterred, he enlisted with the Royal Welsh Fusiliers on 25 November 1914 and remained with them throughout his military career. His enlistment papers for the Royal Welsh Fusiliers have not survived and so there are few further details of his service. However it is known that he was wounded, treated and returned to service, prior to the engagement on the Somme which caused his death. (Chester Chronicle).
Pte Joseph D'Arcy was reported killed in action in the September 1916 issue of St Werburgh's Parish Magazine. His name is listed on the Memorial Boards in Chester Town Hall, St Peter's Church and St Werburgh's Church. He was entitled to the 1914-1915 Star, the British War Medal and the Allied Victory Medal.
Joseph is buried in Grave III. C. 13 Flatiron Copse Cemetery, Mametz, Somme, France.