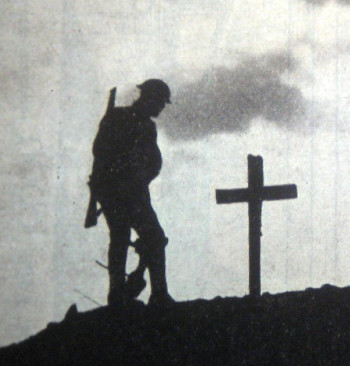 George Dobbins
Pte 8th Btn Cheshire Regiment 31067
Died: 29-01-1917 age 29
In 1873 Thomas Dobbins and Mary Flaherty were married at Northwich. The couple lived in the nearby village of Great Budworth and attended St Wilfred's Catholic Church, Northwich, where most of their family, including George, were baptised: John, Thomas, Richard, Bridget, twins William and Mary, John, Michael, James and George. Sadly the eldest John, then Bridget and Mary, all died in childhood.
By 1891 the family had moved to Chester, where their youngest child, Mary Ann, was born and later baptised at St Francis. The family lived in the Lower Court area and were involved in the rag and bone and bottle dealing trades. By 1901 the family had re-located to Birkenhead and, though Thomas and Richard had left home, the rest of the family continued in the bottle dealing trade. In 1911 Thomas and Mary were back in Chester, living with their youngest daughter, Mary Ann, in Seaville Street. Thomas still worked in the scrap iron and bottle dealing business, whilst the two women worked as cloth cutters.
Meanwhile George had married Alice May Ford at St Nicholas Parish Church, Liverpool, in 1908. The couple lived at 69 Dacre Street, Birkenhead, and George continued with his work in bottle dealing. By the time that the Great War had broken out and George had been sent abroad, the couple had had four children, Charles Thomas, George, Daisy, and John Arthur. The family lived in Back St Ann Street and the children were baptised at St Laurence' Birkenhead. Sadly the eldest child died before his first birthday.
On 23 September 1914 George and Alice had a Catholic marriage ceremony at St Laurence' Birkenhead and shortly afterwards George joined the Army Reserves. On 11 April 1916 he enlisted from the reserves and on 10 September 1916 he joined the Mediterranean Expeditionary Force. George was successively part of the A.S.C., the King's Own Shropshire Light Infantry (24374), the 17th Reserve Btn Cheshire Regiment, and finally the 8th Btn Cheshire Regiment. His address on enlisting had been 61 Back St Anne Street, Birkenhead, where his wife and family still lived during the war. By contrast, George's father had died and his mother Mary and sister Mary Ann were now living in Steven Street, Chester.
George's service was in the Asian Theatre of War and he died in Mesopotamia on 29 January 1917. He would probably have been involved in the recapture of Kut al Amara. This action began 13 December 1916 and ended with the taking of Kut in February 1917, leading to the taking of Baghdad in March. George's name is listed on the Basra Memorial. He was entitled to receive the British War and the Allied Victory, Medals.