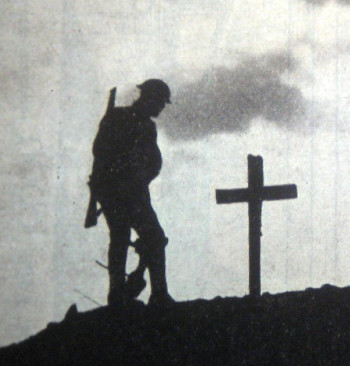 Thomas Dobson
Lance Cpl 1st Btn Royal Welsh Fusiliers 4499
Died: 28-08-1916 age 26
Thomas was the youngest child of William and Mary Dobson nee Bunnell of Chester. Thomas was born around December 1890 and at that time his father worked as a fisherman. His older brothers George, John and William became fish sellers. Thomas also had an elder sister, Mary Elizabeth. The family were Anglican. Sadly Thomas' parents William and Mary died in 1903 and 1905 respectively.
In 1910 Mary Elizabeth married James McCleary, a widower, father of three young daughters and a stalwart parishioner of St Werburgh's. Thomas made a home with his sister and her new family in Canal Side, Chester, where his brother-in-law was an assistant to a marine store dealer. Thomas himself worked as a rag-gatherer.
Thomas married Elizabeth Hewson'in Chester, in March 1914, and when war broke out, enlisted at Wrexham. Thomas' number and his swift deployment into France indicate that he may have been in the army before, or that he was in the Reserves or Territorials. By 6 October 1914 Thomas was serving in France. However, Thomas must have been in Chester, in January 1915, because both Thomas and his wife Elizabeth were received into the Catholic Church at St Werburgh's that month. Their son Thomas Ypres Dobson, who was born in February 1915, was also baptised at St Werburgh's, Mary McCleary (possibly Thomas' sister), being the godmother. Her husband James had enlisted by this time with the Royal Field Artillery but was discharged for medical reasons at the end of July, later that year.
Anecdotal family information states that Thomas may have been suffering from a gas attack and recuperating at home during the early months of 1915. Thomas later returned to France.
Because his army enlistment papers have not survived, it is difficult to reconstruct his final days. Pte Thomas Dobson died on 28 August 1916, presumably as a result of operations on the Somme. Here, on 1 July 1916, French and Commonwealth forces launched an offensive on a line from north of Gommecourt to Maricourt. Despite a preliminary bombardment lasting seven days, the German defences were barely touched and the attack met unexpectedly fierce resistance. Losses were catastrophic and with only minimal advances on the southern flank. The initial attack was a failure.
In the following weeks, huge resources of manpower and equipment were deployed in an attempt to exploit the modest successes of the first day. However, the German Army resisted tenaciously and repeated attacks and counter attacks meant a major battle for every village, copse and farmhouse gained. At the end of September, Thiepval was finally captured. This village had been an original objective of 1 July. Attacks north and east continued throughout October and into November in increasingly difficult weather conditions. The Battle of the Somme finally ended on 18 November with the onset of winter.
Thomas' death was reported on the Roll of Honour in the November 1916 issue of St Werburgh's Parish Magazine. Then Fr Maurice Hayes, the priest who had received the Dobson family into the church, went back to the register and wrote R.I.P. in large letters at the side of Thomas Dobson's conditional baptism entry.
Thomas was entitled to receive the 1914 Star with clasp, the British War Medal and the Alllied Victory Medal. His name is listed on the WW1 Memorials in the Town Hall and in St Werburgh's Church, Chester. Thomas' name is also listed on the Thiepval Memorial, Pier and Face 4A.