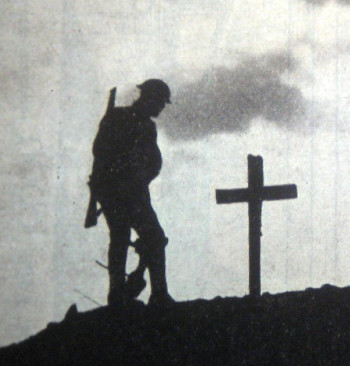 Richard Donnelly
Lance Cpl Military Police Corps, Military Foot Police P/3849
Died: 27-03-1917 age 29
Richard was born in Chester on 1 January 1888 and was baptised in St Francis on 12 January of that year. He was the son of James and Mary Ellen Donnelly nee Clancy. His father was a bricklayer and the family lived in the Northgate area of town. Richard lived with his parents and three elder siblings, Margaret, Walter and James, and one younger sister Elizabeth. Sadly their mother died between 1891 and 1901. This seems to have caused the family to split up. In 1901 James Snr is lodging with one family in the Northgate area and his sons Walter and Richard are lodging with another family, in whose business both brothers are working. Although only 13, Richard is working as an assistant to a cart driver. It is possible that he was later employed at Chester Leadworks.
Richard married Constance Eva Evans in a civil ceremony and their sons Walter and Albert were born in 1909 and 1912 respectively. In 1912 the family were living at Clare's Court, Charles Street, Hoole, and in 1913 both children were baptised here at St Werburgh's.
On 31 August 1914 Richard enlisted with the Cheshire Regiment at Chester, age 26 years 8 months. His service lasted only two months. He was discharged as medically unfit on 30 October 1914. Undeterred by this event Richard applied to the Royal Welsh Fusiliers at Wrexham. He enlisted on 10 May 1915. This time his service lasted an even shorter time. He was discharged as medically unfit on 19 May 1915.
Richard and Constance's third son, John Edward, had been born on 7 February and baptised on 14 March 1915 at St Werburgh's. On 18 June 1915 Richard and Constance had a religious marriage ceremony at St Werburgh's.
Sometime after this event Richard was accepted by the Military Police Corps and served until illness overtook him. He died in the Military Hospital, Newport, whence he was conveyed to Overleigh Cemetery, Chester, where his body was buried in Grave Number G1163. Fr Maurice Hayes of St Werburgh's officiated. As Richard did not serve abroad, he would not have been eligible to receive campaign medals.