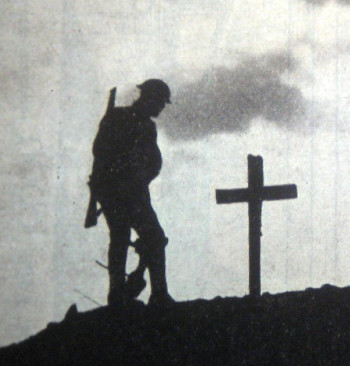 George Farrell
Pte 1st Btn Royal Welsh Fusiliers 5137
Died: 11-12-1914 age 18
George was born in Chester, the son of James and Jane Farrell nee Baker and was baptised at St Werburgh's Church. Both parents were in the tailoring trade and the family had previously lived in different parts of Northern England, notably Newcastle under Lyme and Birkenhead. In Chester the family lived in Davies Court, Love Street. George's father James died in 1905 age 54 and was buried in Overleigh Cemetery. His mother Jane continued to work as a tailoress and by 1911 was living in Parkes Court, Love Street, most of the family having left home. Only the eldest daughter Bertha, Joshua Septimus, and George were at home. George was 15 and working as an errand boy. 
George enlisted just after the outbreak of war but his enlistment records have not survived, so we know few details of his military career. What is certain is that he arrived in France on 2 November 1914 and was killed one month later, in those confused early days of WW1. Trenches had become a feature of the Great War after the Battles of Aisne and Marne, in the autumn of 1914. From the 1st Battalion's War Diary we know that during early December the 1st Battalion of the Royal Welsh Fusiliers had been billeted in Rue Biache, where George probably joined them. On 8 December they returned to the trenches. On 11 December, 2nt Lt Jerman was wounded in an unsuccessful attempt to carry off an enemy's detached port. In this same action one other ranking soldier was killed and two were wounded. George was probably the other ranking soldier mentioned as being killed in this action.
George Farrell was listed as killed in action in the February 1915 edition of St Werburgh's Parish Magazine. He was entitled to the 1914 Star, the British War Medal and the Allied Victory Medal.
George's elder brother James also died in this conflict.
George's name is listed on the Ploegsteert Memorial, Hainaut, Belgium, Panel 5.
It is also listed on the WW1 Memorials in the Town Hall and St Werburgh's Church, Chester.