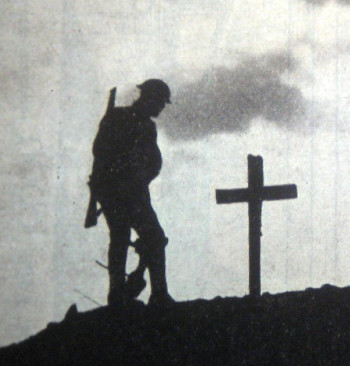 Thomas Feeney
Pte 5th Btn Cheshire Regiment 1534
Died: 29-04-1915 age 22
Thomas was the eldest son of Michael and Winifred Feeney nee Clancy, of 28 Steven Street, Boughton, Chester, who were married at St Werburgh's in 1890. Michael was a railway worker. Thomas was born on 13 July 1892 and baptised at St Werburgh's on 7 August 1892. He was later confirmed here in 1905.
Thomas had eight siblings, Catherine, James, Robert, Mary Ellen, Michael, Edward, Winifred and Annie. Thomas and James are not present in Steven Street on the 1911 census, so may be working elsewhere. They may even have already joined the army.
Thomas' enlistment papers have not survived, so little is recorded of his army history. However, a letter, received after his death and published in the Cheshire Observer on 22 May 1915, reveals that Thomas trained in Northampton and was billeted at 112 St Leonard Road, Far Cotton, during his training. The householder had written to the Feeney family to express his regard for the fallen soldier and sent condolences to the family.
Thomas' medal roll index card reveals that he served in France from 15 February 1915 and was killed in action there on 29 April 1915. He was probably one of the two men killed on that day, in the frontline trenches of the Kruisstraat sector, due to enemy sniping. Seven others were badly wounded and three slightly wounded.
Thomas was therefore entitled to the 1914-1915 Star, together with the British War Medal and the Allied Victory Medal. His death was reported in the June 1915 edition of St Werburgh's Parish Magazine.
Thomas is buried in Grave I.F.8 Spoilbank Cemetery, West-Vlaanderen, Belgium. His name is on the Memorial Board in Chester Town Hall and in St Werburgh's Church.