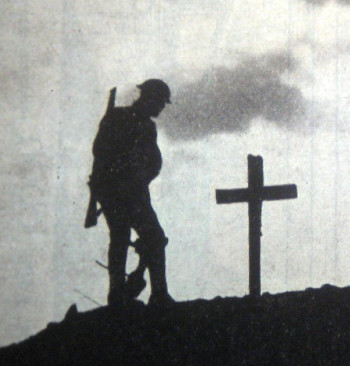 James Garvey
Pte Royal Defence Corps 30312
Died: 02-07-1917 age 51
James, the son of Thomas and Bridget Garvey nee Riley, was born in Chester on 17 October 1865 and baptised at St Werburgh's on 29 October 1865. He grew up in Steven Street and was already working as a general labourer at the age of 15. He first joined the Cheshire Regiment (20043) and served in the Burma and South African Campaigns.
James married Mary Callaghan at St Werburgh's, Chester on 8 July 1893. They lived at various addresses in Boughton, Chester, and their children were born here and baptised at St Werburgh's. In the 1901 census James is away, possibly on army duties, and Mary lives in Charles Street with her three daughters. By 1904 the family lives in Fosbrook Street and by the 1911 census James is back home and appears to have left military life. He may have been transferred to the reserves.
His military records have not survived, so few details of his WW1 service are available. However it states on his medal roll index card that he enlisted on 8 September 1914 and was discharged due to sickness in accordance with paragraph 3G2 XVI of King's Regulations, on 4 July 1917. However, anecdotal reports state that during WW1 he experienced a severe gas attack and as a result he was transferred to the Royal Defence Corps, a unit which protected military installations in this country. James later died.
James was buried in Grave 1121 of Overleigh Cemetery, Chester on 6 July 1917. His name is listed on the WW1 Memorials in the Town Hall and St Werburgh's Church, Chester. James' wife, Mary, was buried in an adjacent plot, Grave 1124, in Overleigh cemetery in 1928.
As you can see, the dates given by the different sources conflict with the date of death given by the Commonwealth War Graves Commission and used at the top of this entry.