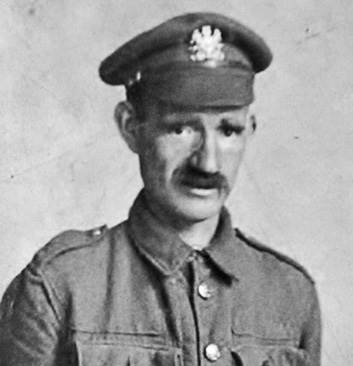 Peter Gerrighty
Pte 10th Btn Cheshire Regiment 59637
Died: 13-01-1918 age 37
Peter was the eldest child of James and Catherine Gerrighty nee Kelly, who had married at St Werburgh's on 13 October 1878. Though James had been born in Ireland he was living at Parry's Entry, Chester, and Catherine, who had been born in Chester, lived in Steven Street. The couple then set up home in Hop Pole Court, Foregate, Chester. Their first child Bridget was born in 1879 and baptised at St Werburgh's, but sadly died the following year and was buried in Overleigh Cemetery. Of their other children, Peter and Margaret were born in Birkenhead, and Mary Ann, Catherine, Martin and Sarah in Stockport. In 1891 the family lived at 1 Dickenson's Court in Stockport and appears to have attended St Joseph's Church there. The family then appears to have lived alternately in Steven Street, Chester, or Lloyd's Court, Stockport. We can assume that these migrationswere caused by James' work as a bricklayer. James died in Stockport in 1906 and his widow Catherine then permanently settled the family back in her home town of Chester, at 59 Steven Street.
Peter's civilian and military life was nothing if not interesting during this period. On 4 November 1897, age 17, Peter had enlisted with the 3rd Battalion of the Cheshire Regiment, number 4269, to serve for six years. He had been working as a labourer with Messrs Galloway and Co. of Manchester and had lived at 9 Talbot Street in Stockport for the previous year. At this time the rest of his family was living at 17 Steven Street, Chester. On 6 December 1898 Peter enlisted in Manchester with the Royal Irish Fusiliers, 6418. At this time his family was living in Stockport and Peter joined the regiment at Colchester on 7 December. Life in the Royal Irish Fusiliers did not seem to suit Peter and he absented himself for a week on two separate occasions. This resulted in his having to serve two periods of a fortnight in army prison. On 26 June 1901 he was stated as having deserted. On 25 November, at the age of 20 years and 10 months, Peter enlisted at Manchester, with the Royal Horse Artillery, 29200. In his enlistment form he stated that he had previously served with the Cheshire Regiment but that his time had expired. The family was living at 17 Steven Street at this time. His fraudulent enlistment was quickly uncovered and he was imprisoned for 20 days before being discharged for misconduct on 1 January 1903. No doubt Peter thought or hoped that this would be the end of his army days.
Peter married Ann Caldwell in Chester in 1905 and the couple set up home in Steam Mill Street. In January 1910 their daughter Margaret Ann was born and baptised at St Werburgh's on 6 February 1910 but sadly she died in 1911.
After the Great War broke out, despite any misgivings which he may have had, Peter enlisted with the 10th Battalion, Cheshire Regiment. This time his enlistment papers have not survived. All we know of his Great War service is that he died on 13 January 1918 and was buried in Favreuil British Cemetery. He was eligible to receive the British War Medal and the Allied Victory Medal. Peter's name is listed on the Town Hall Memorial Board in Chester.