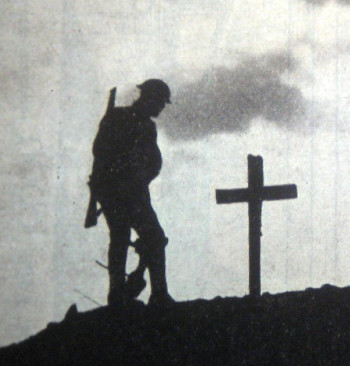 Alfred John Gibson
Cpl 1st Btn Life Guards 2916
Died: 13-05-1915 age 20
The Gibsons were an old Chester family. Alfred's grandfather Michael was first a solicitor's clerk and later a newspaper reporter in Chester. Sadly both Michael and his wife Ann died in the early 1870s leaving a family of six children. In the 1881 census their son Alfred George Gibson, age 16, was working in a bakery and lodging with a family in Pipers Ash. Alfred George Gibson married Elizabeth Meakin in 1886 and in the 1891 census they were living with Elizabeth's mother and their two children, Alfred John and Mary Elizabeth, in Birkenhead. By 1901 the family had moved to Haydock but in 1904 Elizabeth died. Alfred George re-married in 1905 and by 1911 Alfred John was working as a newspaper reporter in Warrington, whilst his sister, Mary Elizabeth, was working as a servant at Notre Dame Blackburn Girls Convent School. The 'Haydock' Gibsons still had many 'Chester' Gibson relations with whom they appear to have kept in close contact.
Alfred was 18 years old in 1912 and working as a cub reporter on a Warrington newspaper, when he enlisted on 29 August with the First Battalion of the Life Guards, at Warrington. He gave his place of birth as Haydock, near the town of St Helens. Alfred was a giant of the times, being over 6 ft 1 inch in height and was considered fit for service in the Household Cavalry Corps. He was signed for a short service, i.e. eight years with the colours and four with the reserves, and two days later actually joined the Household Cavalry at Windsor. During 1912 he gained his third and then second class Army Certificates of Education and seemed to be set for a successful army career.
Alfred's army service was at home until 14 August 1914, when he joined the British Expeditionary Force to France, still with the rank of Trooper. Alfred would have taken part in the action around Mons and Le Cateau but lived to form part of the re-organized B.E.F. the following year. On 20 January 1915 he was promoted to Corporal. Alfred was killed in action on 13 May 1915 at Potijze. It appears that the enemy started shelling his position at 0330 hr and from 0400 to 0700 h the shelling was unabated. Thereafter it continued all day. The casualty returns for the 1st Life Guards that day were: Killed 24, Wounded 58, Missing 11. Alfred would have been one of the 24 who were killed.
Cpl Alfred Gibson's death was recorded in the August 1915 edition of St Werburgh's Parish Magazine. He was entitled to receive the 1914 Star, British Empire Medal and Allied Victory Medal. Instead, his father and sister Mary Elizabeth would have received these, together with other effects, at their home at 13 Blackbrook Road, Haydock.
Alfred's name is listed on Panel 3 of the Ypres (Menin Gate) Memorial, West-Vlaanderen, Belgium. His name is also recorded on the WW1 Memorials in the Town Hall and in St Werburgh's Church, Chester.