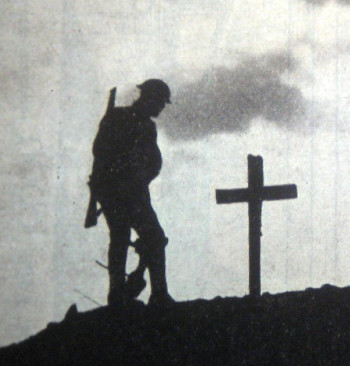 Joseph Gough
Pte 3rd (Prince of Wales's) Rgt of Dragoon Guards D/5984
Died: 06-06-1915 age 26
Joseph was the eldest child of Henry and Elizabeth Gough nee Chambers, who had married in Henley, Oxfordshire in 1888. Elizabeth was an elder sister of Canon Joseph Chambers, who was rector at St Werburgh's during the Great War.
Joseph was born in Hambledon, Buckinghamshire but lived with his family in Henley and later in Reading, Berkshire, where his father was a butcher.
By 1911 Joseph aged 22 had enlisted with the Dragoon Guards and was stationed at Barossa Barracks, Aldershot. Before the Great War started he saw service with the regiment in Egypt and in August 1914 Joseph would have been with his battalion at Cairo. From here they were recalled to England. They arrived at Liverpool on 18 October 1914 and by 31 October 1914 had landed in France. It seems possible that Joseph Gough could have paid a visit to his uncle and namesake during the short interval when the regiment was in this country.
On 4 November 1914 the 3rd Dragoon Guards came under the command of the 6th Cavalry Brigade in the 3rd Cavalry Division. This unit had been fighting relentlessly during what came to be called the first Battle of Ypres. Joseph joined them in time to take part in the last Battle of Nonne Bosschen on 11 November before winter operations took over.
On 11 May 1915 the Battle of Frezenburg Ridge marked the start of the 2nd Battle of Ypres. Joseph was killed on 6 June 1915 and was buried in Grave I.e. 142 of Bailleul Communal Cemetery extension, Nord, France. His obituary was printed in St Werburgh's Parish Magazine of July 1915. Joseph Gough was entitled to the 1914 Star, the British War Medal and the Allied Victo