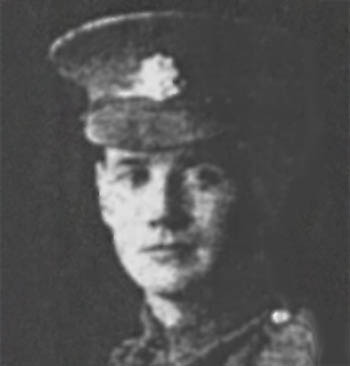 Thomas Goulding
Pte 1/5th Btn Cheshire Regiment 2728
Died: 10-10-1916 age 20
The Gouldings were a prominent Catholic family resident in Tarporley. Martin Goulding, an Irishman,` had settled there in the mid 19th century and with his first wife Mary nee Hunter started a chandlery business in the High Street. Their children Martin, Mary, Elizabeth, Peter and Michael were born there and baptised at St Werburgh's, Chester. Sadly Mary died soon after their son Michael was born and Martin later married Catherine Hanley. They too raised their family in Tarporley. George Goulding, the first son of this second marriage, was baptised at St Werburgh's in December 1863. The Goulding children were well educated, the girls being sent as boarders to Notre Dame Convent in Manchester. As they grew up, the girls tended to take up teaching and the sons started their own businesses in Tarporley. By 1914, Tarporley High Street had four stores or businesses, each owned and operated by different members of the Goulding family.
Martin's son, George, married Emma Coates in Chorlton, Manchester in 1893. They proceeded to run a gentlemens' outfitters and tailor's shop at 54 High Street, Tarporley and most of their children, Martin, George, Thomas, Catherine, Patricia, Frederick and Winifred, were born there. However, some time between 1902 and 1905 George Goulding and his family relocated their business to 10 Linen Hall Street, Chester, whilst they lived in Queen Street. Their youngest son, John Joseph, was born here in 1906 and baptised at St Werburgh's.
Ironically, the attic of their former house and business premises in Tarporley was then used as a Mass Centre. Starting in November 1906, a priest from St Werburgh's went there each Sunday to say Mass for the few (mainly Goulding) Catholic locals, whose ranks had been swollen by an influx of about 20 Irish grooms, who came regularly with their employer, the horse breeder and trainer, J.J. Maher, for the Tarporley hunting season. Some of the Goulding cousins were baptised in this Mass Centre, though their baptisms were registered at St Werburgh's Church, in Chester.
Thomas (Tom) Goulding, George and Emma's third son, attended St Werburgh's School and then became apprenticed to Messrs Rowley and Sons, watch makers and jewellers, Cow Lane Bridge, Chester. He was apparently well thought of by his employers who also described him as a 'favourite with the firm's customers'. At the age of 18 he joined the Citizen Volunteers at Mollington and won second prize for shooting. Tom was apparently a keen Volunteer and used to ride from Chester to Mollington to drill. Mollington was the birthplace of the Volunteer movement in this country. Tom's death was the second of a man originally from this unit. Tom also distinguished himself six months before his enlistment by jumping fully clothed into the canal to rescue a child. (Chester Chronicle)
In 1912 Thomas' elder brother George had left his position with a tea merchant in Chester and had enlisted with the Territorials for a four year stint. His eldest brother Martin, who had worked in his uncle's pub, the Forester's Arms in Tarporley, also enlisted later. It would have been no surprise to his parents therefore, when Thomas enlisted with the Cheshires in October 1914 at the age of 18 years and eight months. Thomas' enlistment papers have not survived and so his army history is ill documented. However in his obituary (Chester Chronicle of November 1916) it states that Thomas had been at the western front for fourteen months and had taken part in several big battles, never getting hit, until he was wounded on 7 October 1916. The 5th Cheshires had been utilised in pioneer working parties, in an area of the Somme valley south of Montaubon, from 1-10 October and several men were wounded each day. Six soldiers of other ranks were wounded on 7 October Tom died of his wounds on 10 October 1916.
Thomas is buried in Grave I.J.45, Grove Town Cemetery, Meaulte, Somme, France.
Pte Thomas Goulding was reported as dead in the November 1916 issue of St Werburgh's Parish Magazine and his name is listed on the WW1 Memorial Boards in the Town Hall and in St Werburgh's Church, Chester.
He was entitled to the 1914-1915 Star, the British War Medal and the Allied Victory Medal.