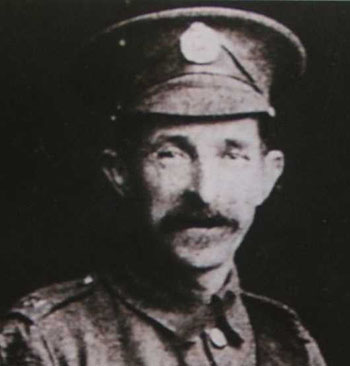 Thomas Francis Heaney
Sgt Royal Engineers 45644
Died: 02-06-1918 age 50
Thomas Heaney was born on 29 October 1867 and baptised 10 November at St Werburghs. In 1881 he was also confirmed there. He was the son of Patrick and Bridget Heaney nee Heveran of Chester. The family lived first in Steven Street and later at 5 Fosbrook Street.
On 15 September 1895 he married Catherine Feeney, daughter of Michael Feeney, at St Werburgh's. The couple lived at 5 Fosbrook Street and later at 53 Steven Street, Chester, and brought up their family of eight children there. All the children were baptised at St Werburgh's and attended St Werburgh's School. Thomas worked as a general labourer.
In the December 1914 edition of St Werburgh's Parish Magazine, where the surnames of volunteers are listed, it states that two members of the Heaney family have enlisted. It appears that both Thomas and his eldest son James, who would have been just eighteen, have both volunteered by this time. Thomas definitely joined the Royal Engineers and it is possible that James also joined this regiment, becoming a signaller. Family anecdotal evidence states that Thomas volunteered at an enlistment event in City Road. It is impossible to envisage the feelings of Catherine Heaney at this time, having both her husband and her eldest child volunteer for the army during wartime.
Thomas' enlistment papers have not survived, so details of his army service are minimal. However, his Medal Roll Index card reveals that he entered France on 5 September 1915 and served for some time at the front. He was home on leave in May 1918 and did not feel well. On Monday 27 May he went to the Central War Hospital in Chester. An operation was performed but Thomas did not survive it. He died there having received the last rites.
A Requiem Mass was held at St Werburgh's on 6 June. Then, according to the Chester Chronicle of Saturday, 8 June 1918, Thomas was buried in Overleigh Cemetery, with full military honours. The Cheshire Regimental Band played the 'Dead March' and four fellow NCOs carried the coffin, which was covered by the Union Jack, to the grave. Rev. C. James conducted the service and the 'Last Post' was sounded. Sergeant Heaney's youngest child, Agnes, was not listed as a mourner but she lived in Chester until her death in October 2014 and could remember seeing her grandmother, Thomas' mother, wearing a black bonnet to go to the funeral.
Thomas' son James possibly served in the Balkan theatre, at Salonica. He survived the Great War, married and brought up a family in Chester. Thomas' younger children were brought up in Chester by their mother and all prospered. Perhaps the most successful of them was Mary Heaney, who became Sheriff of Chester in 1959/60 and Mayor of Chester in 1964/5.
The Heaney family are unusual, in that both father and son were on active service in the British Army during the Great War.
Thomas Francis Heaney was entitled to the 1914-15 Star, the British War Medal and the Allied Victory Medal.
He is buried in grave 992 of Overleigh Cemetery, Chester. His name is also listed on the WW1 Memorials in the Town Hall and in St Werburgh's Church, Chester.