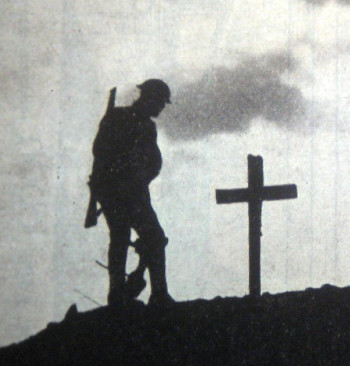 Richard John Hennessy
Lance Cpl 2nd Btn South Lancs. Regiment 2314
Died: 27-07-1915 age 40
Richard was born in 1875, the son of Richard and Emily Hennessy of Clerkenwell, Middlesex, London. He was one of the older children of the twelve born to the couple. Richard grew up in London, where his father worked as a bottler for a soda water producer. By 1881 Richard Snr had moved to a shop in the corporation buildings in Clerkenwell, where he was registered as a mineral water manufacturer. Sometime before 1891 the whole family moved to 2 Ayr Villas in Stamford, Lincolnshire. Richard Snr now worked as a foreman at a mineral water works in Stamford, with Richard Jnr age 15 also working as a drayman and George Frederick, his brother, working as a messenger boy.
Richard and his brother George Frederick, who was only 18 months younger, seemed to be particularly close but by 1901 their paths had diverged. Though both trained as engineers, Richard was working at Chatham Naval Docks, Kent, and George had come to work as a railway engineer in Chester and was living in lodgings at 10 Lord Street. In Chester, George met and married Edith Ellen Williams, daughter of William Vaughan Williams, at St Werburgh's on 19 July 1902. The couple set up house at 2 Garden Terrace, Spital Walk, Boughton. By 1911 four children had been born to them. All were baptised at St Werburgh's but sadly two had died. Another son, Maurice Bernard, was born and baptised here in June of 1913.
Meanwhile, George and Richard's parents, Richard and Emily, had retired but still lived in Stamford, at 13 All Saints Place, with their two youngest sons, Thomas and Vincent, who were employed in local foundries and machine workshops respectively.
Richard enlisted with the South Lancs. Regiment in Manchester, on 21 August 1914. It states on his enlistment form that Richard had previously been a member of the 4th Battalion, Lincolnshire Territorials and had seen service in South Africa. Unfortunately we have not been able to find any details of this service.
On 22 October 1914 Richard joined the British Expeditionary Force to France and Flanders and on 16 December 1914 he was promoted to Lance Corporal. Sadly Richard was killed in action on 27 July 1915 at St Eloi and at first was given a battlefield burial there. Later he was re-buried in Grave IX.B.1. Enclosure No.3, Voormzeele Cemetery, West-Vlaanderen, Belgium, two miles south of Ypres. Notice of the death of Pte Richard John Hennessy of S. Lancs Reg. was placed in the September 1915 issue of St Werburgh's Parish Magazine. His name is also listed on the WW1 Memorials in the Town Hall and in St Werburgh's Church, Chester.
Richard and George's father had died and so Richard's effects were sent to his mother Emily, at 13 All Saints Place, Stamford, Lincolnshire, on 24 March 1916. They consisted of a belt, gloves, notebook, identity disc, scapula, correspondence, stationery, silver watch and tobacco. Emily Hennessy had moved to 4 Church Lane, Stamford by November 1921, when she received the 1914-15 Star, British War Medal and Allied Victory Medal which had been awarded to her son.
George Hennessy was a benefactor of St Werburgh's Church and no doubt asked for his brother's name to be placed on our memorial. Another child was born into the Hennessy family in Chester on 1 November 1917. He was named Lawrence St Eloi Hennessy. Sadly he lived for only two months.