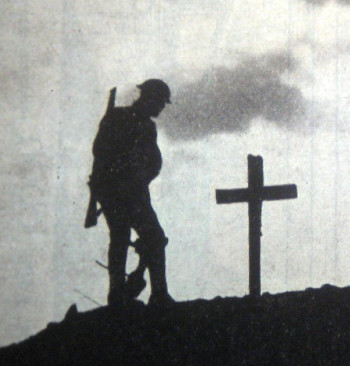 Thomas Higgins
2nd Lt Royal Engineers, 130th Field Company
Died: 15-11-1916 age 26
Thomas was the youngest of eight children born to John and Amelia Higgins, nee Laycock, of Chester, where John worked as a solicitor's managing clerk. The four elder children were baptised at St Werburgh's and the four younger children, including Thomas, were baptised at St Francis. Thomas was born on 6 March 1890 and baptised on 13 April that year. During this time the family had lived at 10 Hamilton Place, 25 Crook Street and finally at 40 Nicholas Street.
Thomas grew up and was educated in Chester, where he also joined the Grosvenor Rowing Club. He trained as a Civil Engineer, working for H. F. Bullam as a County Surveyor for Cheshire for three years. He left in 1908, going to E. G. Hawley to work as a Borough Engineer in Leicester, living at 9 St Peters Road, Leicester. Meanwhile his parents moved to Hill Crest, Meliden Road, Prestatyn, where in 1911 they lived with their youngest daughter Martha, age 23.
After war broke out in August 1914 Thomas joined the Royal Navy as a Sapper in the Royal Marine Engineers, enlisting on 25 September 1914 in London. He gave his home address as Hill Crest, Prestatyn.
Thomas served first at Gallipoli with the 1st Field Company RME of the Royal Naval Division. He disembarked around April 1915 but in July succumbed to enteric sickness and was eventually evacuated to Plymouth Hospital, where he stayed until September 1915. On 22 January 1916 he was granted a temporary Commission in the Royal Engineers and on discharge from RME his character was described as Very Good. Officer training would have taken about a month. Thomas was then posted to the 130th Field Company RE, which was serving in France on the Somme, with the 25th Division.
On 24 August 1916 Lt Higgins and 20 other ranks acted as a carrying party, taking wire and wood from front line captured trenches at Junction 17 in the Leigzig Salient (Thiepval). Together with a second unit they put out a fire in the 17th trench, which offered a transit to the enemy. They also reconnoitred communication trenches and returned at dawn. The casualties consisted of Lt Higgins slightly wounded and two other ranks wounded.
For this action Lt Higgins was awarded the Military Cross. His citation reads, "For conspicuous gallantry during operations. He persisted in the consolidation of the captured trenches under intense shell fire. Later he volunteered to assist the infantry by carrying up material, and made several journeys through a heavy barrage."
Lt Higgins MC was wounded again on 15 October 1916. The War Diary reads, "4 Coys dug trace of trench and laid direction tape for 3 Coys to come up to work on. 250 men were detailed and with in 3 minutes of arriving had started work. A certain amount of shelling, 2Lt Higgins MC was wounded along with his Orderly and one other Sapper all in the first 10 minutes".
A telegraph was sent to his parents. "Urgent J. Higgins Thiepval Highbury Ave Prestatyn N Wales. You are permitted to visit 2Lt Thomas Higgins RE. Seriously ill at 20 General Hospital Camiers."
Another telegraph was sent on 15 November 1916. "Deeply regret to inform you 20 General Hospital Camiers reports 2Lt Thomas Higgins RE died of his wounds 4.10 am November 15th. The Army council express their sympathy."
Thomas was buried in Etaples Military Cemetery, Pas de Calais, France, I.B.68.
In an obituary published on 25 November 1916, the Prestatyn Weekly wrote. "His sister, Mrs (Martha) Gasquoine, travelled to France on receipt of the news of his injuries, and was present at his deathbed. The King and Queen have sent their condolence."
Thomas' personal effects were sent home by Messrs Cox & Co`s Shipping Agency Ltd, 16 Charing Cross, London, S.W. These are listed as:

1. Letter.
2. Devotional Book.
3. Diary.
4. Metal cigarette case.
5. Leather purse.
6. Whistle.
7. Wrist Watch and strap.
8. Match box cover.
John and Amelia Higgins appear to have changed address to 82 Watergate St, Chester before the effects reached them.
Thomas' will states that a sum of £1616, 3shillings and 8pence was to be paid to his Father. His medals, the 1914-15 Star, British War Medal and Allied Victory Medal, were sent also sent to his Father on 31 May 1917. His Plaque and Scroll were sent on 18 February 1919. His Military Cross was gazetted on the 26 September 1916, but not sent till 3 September 1917.
Thomas is commemorated on the Prestatyn Town Memorial and the Chester City Memorial. His name is also on the Great War Commemoration Boards in St Francis Church and the Grosvenor Rowing Club in Chester. On Saturday 15 November 2014, at the Grosvenor Rowing Clubhouse in Chester, a new boat, "Thomas Higgins," was named by the Duke of Westminster. This was the date on which Thomas had died 98 years previously.