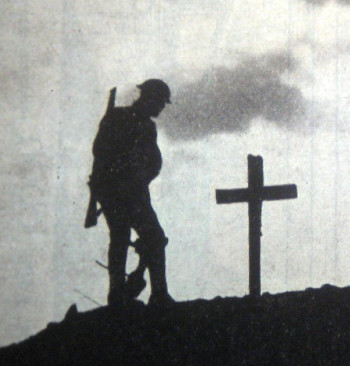 William Thomas Hudson
Pte Royal Welsh Fusiliers 46113
Died: 20-12-1916 age 31
William was the son of Amos and Mary Hudson nee Green and was born in Chester in 1885, where he was baptised at St Francis. He was later confirmed at St Werburgh's in 1899.
William was brought up at 29 William Street and later worked as a French Polisher with a piano manufacturer, Messrs Herbert Ellis and Co., of Chester. William's mother Mary died in 1911 and in 1913 his sister Mary married Walter Edward Jones. At the outbreak of war, William lived at 13 Clare Avenue, Hoole, with his father Amos, sisters Mary and Esther and brother in law Walter.
William married Mary Cotgreave at St Werburgh's in 1914 and they lived at 61 Cherry Road. Their son, Romuald William, was born the following year and baptised at St Werburgh's.
At the end of the year, on 4 December 1915 William enlisted in the Royal Welsh Fusiliers. In 1916 he was sent to Mesopotamia and would have been involved in (unsuccessful) attempts to relieve Kut-al-Amara. Empire troops at Kut surrendered at the end of April 1916. On 1 January 1917 William was reported missing. On 17 July 1917 he was presumed dead. In St Werburgh's Parish Magazine of September 1917, it states that 'Pte William Hudson previously reported missing is now reported killed in action.'
The details behind the bald entries on the army record of Pte William Thomas Hudson were provided at a later court of enquiry. The court convened at Bombay Hospital, where Cpl Gough, an inmate, was to give evidence. According to the account of Cpl Gough, Pte Hudson had been shot by a sniper, in the neck or shoulder, whilst their unit had been trying to cross the River Tigris at Hussaini, on 20 December 1916. Pte Hudson fell and was not seen to move again. The rest of the unit was pinned down by heavy fire and eventually had to retreat.
Pte Hudson's wife Mary, of 61 Cherry Road, Chester, received his plaque, scroll and medals in 1920.
Pte William Thomas Hudson's name is on the Basra Memorial, Panel 15. His name is also listed on the WW1 Memorials in the Town Hall and St Werburgh's Church, Chester. He was entitled to the British War Medal and the Allied Victory Medal.