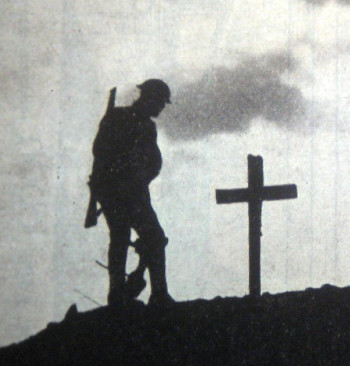 Frederick Hull
Lance Cpl 25th (Tyneside Irish) Btn Northumberland Fusiliers 59315
Died: 23-03-1918 age 25
Frederick was the elder of two sons born to William and Elizabeth Hull nee Rice, who were married at St Francis' Church, Chester, in January 1892. By 1901 the family lived in Eastgate Row and William was employed as a cabinet maker's assistant. Sadly Frederick's brother Albert was at this time in the isolation hospital on Sealand Road. Albert recovered from his illness and was at home for the next census in 1911, when the family lived at 3 Brassey Street in Hoole. William was now a furniture salesman and both his sons were working as clerks, Frederick in the probate office and Albert in a brewery.
Both brothers had been baptised at St Francis' Church. It is possible that Frederick and Albert had also attended St Francis' School and certain that as young men they joined St Francis' Club, even though they were now living in St Werburgh's parish. The Chester Chronicle of 20 May 1918 stated that Frederick and his brother were musicians, Frederick specialising in piano and Albert in violin. Frederick was also a keen sportsman and rower, being one of the four who won the Eaton Plate at Chester Regatta in 1914.
The enlistment papers of neither brother have survived, so we can know little of their army careers. Frederick's medal roll card indicates that he served abroad after 1915 and so was entitled to receive the British War Medal and the Allied Victory Medal. He died in March 1918 and his name is on the Arras Memorial.