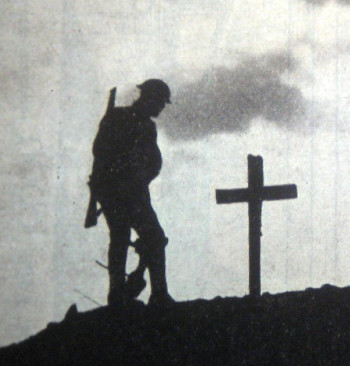 John Ernest Harrison Jankinson
Pte 2nd Btn Royal Welsh Fusiliers 10703
Died: 09-05-1915 age 23
John was born in 1892, the eldest child of James Ernest Harrison Jankinson and Frances Elizabeth nee Clarke. The family lived at 34 Hartington Street, Handbridge, Chester and in the 1911 census John and his three younger brothers and two younger sisters are all living at home. John age 19 was working as an electric crane driver. He married Elizabeth Harnott in Chester in September 1912 and the couple set up house at 13 Milton Street.
John's enlistment papers have not survived but, from his Medal Roll Index Card, we know that when war broke out John enlisted at Liverpool and by 6 October 1914 was in France. John died at the beginning of May 1915. In a letter sent by G. O. Thomas, Captain Commanding A company, and published in the Cheshire Observer of 15 May 1915, John was stated as having been killed instantaneously by a shell, at the start of a big attack initiated by the English army in the early morning.
John's daughter, Kathleen Elizabeth Harrison Jankinson, was born on 1 June and baptised at St Werburgh's on 6 June 1915, one month after her father's death. Kathleen's mother Elizabeth later married Francis Green at St Werburgh's. Kathleen later gained a half sister, Edna May Green. In January 1919 Francis Green also died as a result of illness contracted in the trenches during the Great War. Kathleen spent a year at St Werburgh's Girls' School, where her guardian was listed as her maternal grandmother, Mrs Magee. She left the school in March 1924, when the family left Chester.
John gained the 1914 Star (Clasp 2/28), the British War Medal and the Allied Victory Medal. They were received by Mrs Magee, on behalf of her granddaughter, Kathleen Elizabeth Harrison Jankinson.
John was buried in Grave M3, Bois-Grenier Communal Cemetery, near Armentieres, Nord, France. His name is also listed on the WW1 Memorials in the Town Hall and St Werburgh's Church, Chester.