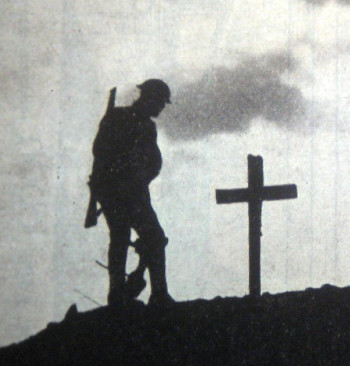 Michael Hugh Joinson
Pte 9th Btn Cheshire Regiment 3751-49690
Died: 16-11-1916 age 20
Michael was the son of Michael Hugh and Elizabeth Joinson nee Norris. He was born on 29 November 1895 and baptised at St Werburgh's on 19 January 1896. In 1909 he was also confirmed at St Werburgh's.
Michael had one elder brother, Peter, and two elder sisters and the family lived initially at Handley's Court, 34 Boughton, where Michael's father carried out his joinery work. Between 1901 and 1911 Michael's father died. He was possibly the man buried in Overleigh Cemetery 1908 age 50, of 24 Steam Mill Street.
Then Michael, his sister Ellen and mother Elizabeth lived with Martin Dowd and his family at 46 Steven Street, Boughton. Martin Dowd was the husband of Michael's sister Mary. Both Martin and Michael worked for Dickson's Nurseries, Newton-by-Chester.
Michael had already served with the Territorials (first number) when he enlisted with the 3/5 Battalion of the Cheshire Regiment on 23 April 1915, giving his address now as 5 Wellington Street, Newtown, Chester and did initial training at home. On 10 February 1916 he was sent to France aboard SS St Tudno and disembarked at Rouen the following day. On 29 February 1916 he joined his battalion in the field where he remained until 19 May, when he received multiple bullet wounds in both thighs. The wounds had been treated in a field ambulance, before he was taken to 19 Casualty Clearing Station. From there he was transferred to No. 10 ambulance train and was admitted to No. 5 General Hospital, Rouen, on 23 May. It was decided that he should continue his treatment at home, so he was evacuated on board SS Aberdonian, on 25 May. He remained in England, having further treatment at the Cheltenham V.A. Hospital and recuperating until 14 September 1916, when he once more set off for France.
By 9 November 1916 Michael would have been with the rest of the Battalion in the newly erected Nessin Hut camp at the village of Aveluy, Somme. The Battalion was involved in work in and around the camp until 13 November, when they were ordered into the line. The Battalion was shelled on the way into the line, with four men killed and six wounded as a result, together with one officer. Enemy shelling continued day and night of 14 November. On 15th of that month Hessian Trench was shelled during the day from Loupart Wood and Lt W. Evans was badly injured. Enemy shelling continued during 16 November and Lt Evans died of his wounds. Michael Hugh Joinson also died on that same date, undoubtedly as the result of enemy shelling, but it is unclear at what stage between 13 and 16 November he had been hit. Casualty losses are given in the Battalion Diary only at the end of the tour of the trenches. By 1.40am on 17 November the Cheshires had been relieved by 7th Btn E. Kents and the Cheshires moved into Marlborough Huts.
In 1918 his effects were sent to his mother. The commanding officer apologises that there is so little to send. The effects consisted of a religious book, a rosary in a cardboard box and some photographs.
Michael was eligible for the British War Medal and the Allied Victory Medal.
Michael's name is listed on the Thiepval Memorial, Somme, France - Pier and Face 3C and 4A. It is also listed on the WW1 Memorials in the Town Hall and in St Werburgh's Church, Chester.