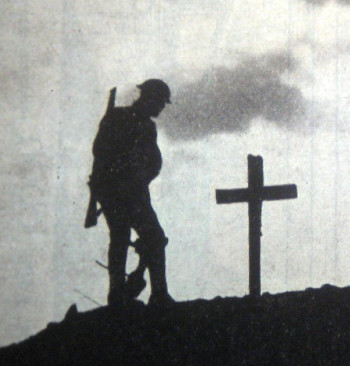 Edward Vincent Jones
Pte Duke of Cornwall's Light Infantry 11797
Died: 12-10-1915 age 29
Edward was born in Chester on 15 June 1886, the son of John and Mary Jones, nee Higgins, both Cestrians, of Thomas Buildings, Canal Side, Boughton. He was the seventh of their nine children. Edward was baptised at St Werburgh's on 5 July 1886 and later attended St Werburgh's Schools. He was also confirmed there in 1899.
Edward's father John was a printing compositor and his mother Mary was a dressmaker, who worked from home. By 1901 the family had moved to 3 The Headlands, Boughton, and Edward, now aged 14, was an apprentice to a coachbuilder. His two elder sisters, Elizabeth and Mary, were now assistant schoolmistresses at St Werburgh's School, having already spent several years as pupil teachers. Edward's elder brothers Ellis and Joseph were apprentices to a solicitor and on the Railway, respectively. His younger siblings Margaret and Francis were still at school. In 1909 Mary Josephine Jones married Henry Godfrey Sandfield and by 1911 only Edward and Frank were still living with their parents at their home at 10 Beaconsfield Street.
At some time between 1911 and 1914 Edward moved to London, where he was employed as a coach painter. It was here that he enlisted on 1 October 1914. He was placed first with the Northern Reserves and then later assigned to the Duke of Cornwall's Light Infantry.
Back in Chester, in 1915 due to staffing problems which were endemic during the war, Mrs Sandfield (nee Miss M. J. Jones) was recalled to teach on supply in Standard III of St Werburgh's Girls' Junior School. In 1916 Miss (Elizabeth) Jones is reported in the Head Mistress' Log Book as having to take both Standard V and VI, in addition to teaching singing.
On 20 May 1915 Edward embarked for France. In September of that year Edward was one of the troops who sustained a severe gas attack on Hill 60 at Ypres. His conduct on this occasion was such that he was mentioned in De Ruvigny's Roll of Honour Volume 2 Page 186. Edward was evacuated to this country and was treated in the Cornelia (Military) Hospital, Longfleet Road, Poole, Dorset, where he subsequently died. On 16 October 1915, Edward's requiem mass was said at St Mary's R.C. Church, Poole, and his body was taken from the church to be buried  in Poole Cemetery, grave 3.C.2.10038. The ceremony was conducted by Fr Timothy Hannigan. St Mary's Church was situated on the shore in Poole at this time. In the 1960s a new church was built further inland and the old church was used for lifeboat storage. The registers from the old church were removed to the new one.
Edward's enlistment had been reported in the March 1915 issue of St Werburgh's Parish Magazine and his obituary was printed in the November 1915 issue. His name is listed on the WW1 Memorials in the Town Hall and St Werburgh's Church, Chester. Edward was eligible to receive the 1914-15 Star, the British War Medal and the Allied Victory Medal.