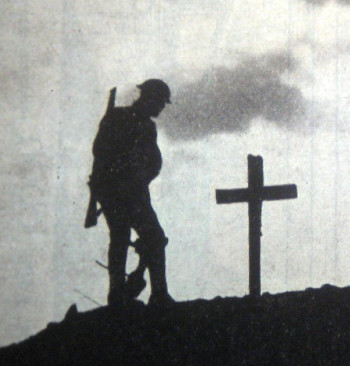 Frederick Jones
Pte 1st Btn Cheshire Regiment 9619
Died: 30-10-1914 age 19
Frederick was the son of John and Mary Jones (nee Goulding). He was born on 2 September 1895 and baptised at St Werburgh's on 4 September 1895. Frederick had an older sister, Margaret, and a younger brother, Thomas, and the family lived at 2 Steam Mill Street. Sadly their mother Mary died in May 1901 and later the family moved to 3 Mount Street, Boughton, Chester. In 1911 John Jones was living there with his two sons and working in a market garden. Frederick was working as a painter's labourer.
Frederick's enlistment papers have not survived but his number indicates that he enlisted at Chester in June/July 1913 as a regular soldier. At the outbreak of war he would have been stationed in Londonderry but went to France on 31 August 1914 when reinforcements were needed to prevent the German sweep to encompass the channel ports of the north east coast of France. He was probably one of the 78 NCOs and men from the 1st Btn who were wounded between 15 and 22 October 1914 in action at Voilaines. He was probably treated and died at the hospital in Wimereux.
Frederick is buried in Grave 1.A.3A. Wimereux Communal Cemetery, Pas de Calais, France. His name is listed on the WW1 Memorials in the Town Hall and in St Werburgh's Church, Chester. Frederick was eligible to receive the 1914 Star with clasp, the British War Medal and the Allied Victory Medal.