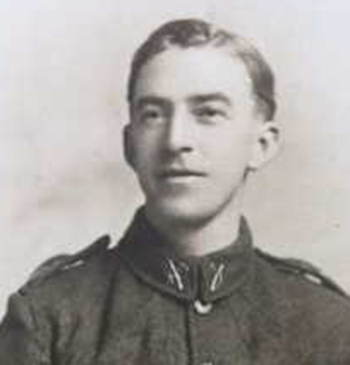 Walter Morissey Jones
Pte 2nd Btn Cheshire Regiment 8768
Died: 13-02-1915 age 23
Walter was the eldest son of Walter James and Ellen Jones nee Meacock, who were both Cestrians and from the Hoole area of the city. Ellen had been baptised at St Werburgh's in 1866 and the couple had married at St Werburgh's on 25 November 1888. They first lived with Ellen's widowed father in Brooke Street, Walter working as a clerk. From 1902 Walter and Ellen ran the Carnarvon Castle Hotel in Watergate Street, Chester. It was on the corner of Watergate and Crook Street but is no longer used as a hotel. Walter James advertised 'Bitter drawn from the wood' and 'Prime Old Tenpenny Ale'. In 1809 the Carnarvon Castle Hotel was used as a polling station.
Twins seemed to run in the family and their eldest child, Walter Morissey, had a twin sister, Ellen Frances. They were baptised at St Francis in 1890. His next sister was Gladys Veronica, followed by twins Austen (died young) and Winifred who were all baptised at St Werburgh's. The youngest and allegedly most vivacious members of the family were the twin brothers, Leo and Terry, baptised at St Francis in Jan 1907. It appears to have been a very lively household. There is even a story that Terry once set a fire under the bed of his twin brother. Fortunately no permanent damage was done to either the household or family members!
After leaving school Walter Morissey trained to be an electrician. However, as soon as he reached his 18th birthday he enlisted with the Cheshire Regiment. He signed up at Chester on 9 December 1907 for a 7+5 (seven years with the colours and five years with the reserves). He had home postings for five years, during which time he gained a Chiropody Certificate. He was posted to India on 18 October 1912 and was there until 18 November 1914. During his time there he was hospitalised in Jabbulpur for ten days for suspected malaria. His blood was negative for the malaria parasite on discharge but he was prescribed quinine for four months.
The voyage home from India, after war had been declared, took about a month and Walter was at home until 15 January 1915. From here he left for France on 16 January 1915. He was killed in action a month later, on 18 February 1915.
Walter's name is listed on the Ypres (Menin Gate) Memorial (Panel 19-21) in West-Vlaanderen, Belgium. It is also listed on the memorials in the Town Hall and in St Werburgh's Church, Chester. Walter was eligible to receive the 1914-15 Star, the British War Medal and the Allied Victory Medal.
Walter's father died in December 1923 but Ellen lived until 1942. They are buried in the same grave in Overleigh Cemetery, where their dead infant is also buried and their eldest son is remembered.