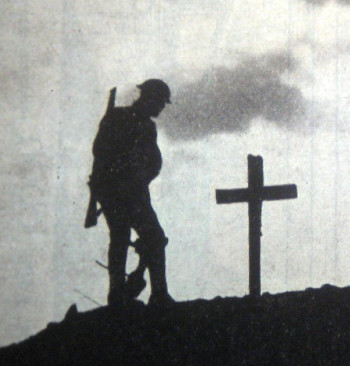 John Kearns
Pte 1st Btn East Yorkshire Regiment 7293
Died: 20-09-1914 age 29
John was the youngest of the five surviving children born to John and Ann Kearns née Burke, both of whom were born in Ireland. John was born on 10 March and baptised at St Werburgh's on 22 March 1885. His older siblings were Mary Ann, Margaret, Patrick and Ann. His younger sister Catherine died at less than one year old, in 1889.
The family lived at 53 Boughton and in successive censuses, John Snr and the two sons are shown as bricklayers and the girls as domestic servants. John age 26 and his sister Mary Ann age 35 are the only siblings still living at home in 1911.
Both Patrick and John were listed on St Werburgh's Roll of Honour, drawn up for December 1914. Unfortunately, although Patrick survived to be discharged in 1917, John was already dead by the time the Roll was published.
From his army number we can deduce that John may have enlisted some time after the 1911 census and before the Great War broke out. John's enlistment papers have not survived, so we have few details of his army service but his medal roll card states that he entered France on 8 September 1914. This would indicate that John was likely to have been involved in the Battle of the Aisne, which permanently stopped the German advance upon Paris but which caused both sides to begin trench warfare.
John has no known grave but his name is recorded on the memorial in the park in La Ferte-Sous-Jouarre, 66 kilometres east of Paris. A Memorial Register is also kept at the Town Hall. In Chester it is recorded on the Town Hall Memorial Board.