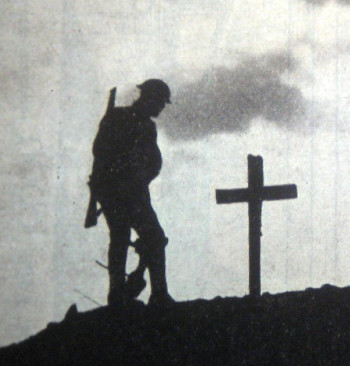 James Francis
Pte Royal Welsh Fusiliers, Royal Warwickshire Regiment 1540, Hampshire Regiment 32035
Died: 04-11-1918 age 28
James Francis Kelly was born on 28 March 1890 and baptised on 13 April 1890 at St Werburgh's, Chester. He was one of six children who were born to James and Margaret nee Hopkins. James, Margaret and all the children were born in Chester. In 1891 the family lived at Parry's Entry but by 1901 when James was 11 the family had moved to 114 Boughton. James Snr worked as a bricklayer as did his eldest son Thomas. In 1911 the family had moved to 72 Boughton where they were to remain. At that time only Thomas, John and Ann were at home. The eldest sibling Catherine was married, James was in the army and the youngest child Martin, born in 1896, had only lived 16 months.
We do not know precisely when James joined the army but he is listed on the roll of the Royal Welsh Fusiliers at Regis Barracks Wrexham, in the 1911 census. It is possible that he enlisted for a short service when he was 18. Then, when he had finished his service, he would have returned to civilian life as a Special Reservist. This would explain why he re-enlisted on 6 May 1914 at Coventry, as a Special Reservist with the 4th Btn Royal Warwickshire Regiment, for a period of six years. His civilian work was stated as that of a bricklayer. He served initially in France, first entering that theatre of war on 27 May 1915.
James' time in France was fairly unremarkable for wartime but he did spend 18 days in Parkhurst hospital from 19 April to 6 May 1915, being treated for scabies. He returned to France but was in hospital at St Omer from 23 September 1915 until 9 October 1915 suffering with influenza. At the beginning of March 1916 James was absent without leave for three days and received a fine as punishment. He received a shrapnel wound to his right hand on 1 July 1916 and was repatriated as the wound surporated. He was admitted to Nerly War Hospital on 4 July, where he was first treated, and Orchard Convalescent Hospital, Dartford, ten days later. He remained there until 5 September 1916, when he was transferred to the Depot.
James embarked at Devonport for Salonica on 4 November 1916. This was part of an effort to reinforce Serbian and other troops along the Macedonian front. In the spring of 1917 a great push north, against the Austro-Hungarian forces, was planned. You could say that here, on this front, the reasons for the outbreak of WW1 were crystallized, militarily. James disembarked at Salonica on 16 November 1916 but on 14 January 1917 he sustained an injury in the field. He apparently fell from an observation post in a tree and damaged his leg. James' records are difficult to decipher but it appears that he was not treated at the 82nd Field Ambulance until 25 January 1917. It was decided that full hospital treatment was needed and he was admitted to (a field) hospital on 20 February 1917. James was then taken by HMS Valorous from Salonica on 27 February 1917 to Malta. Here he was admitted to hospital on 3 March 1917. The records become even more difficult to decipher from now on but it appears that James left Malta on HMS Ghoorka on 9 October 1917. Ghoorka was a hospital ship carrying over 300 patients and medical staff. It was damaged by a mine off Malta on 10 October. Though no-one lost their life, the ship was completely disabled and had to be towed back to Malta, where James was readmitted to hospital as a Ghoorka survivor, on 20 October 1917. He left Malta for England on 1 December 1917, suffering with a malunion of fractured tibia and fibula and with dysentery, and was posted to the Hampshire Regiment Depot on 11 December 1917.
James was first treated for dysentery at the General Hospital at Edgbaston in Birmingham. He left there, having tested negative for microbes, on 8 February 1918 and was transferred to the Divisional Dysentery Convalescent Hospital at Barton-on-Sea, Hants. From here he was transferred to the University War Hospital at Southampton, where his damaged right leg was treated for malunion of the tibia and fibula bones. On 21 March James returned to the second Birmingham War Hospital for more treatment on his leg. He remained there until 27 May 1918. It was here that James refused a final operation for contraction of the Achilles tendon. He was then discharged to employment.
After that James was the subject of a medical board of enquiry. The medical board was informed that James' injury was originally caused by falling from an observation post in a tree. The court heard that James had had four operations performed on his leg but that it was constantly buckling underneath his weight. His present condition was that the leg was shortened and deformed. He had also received a shrapnel wound to his hand but this was causing no disability at that time. He had also refused an operation for contraction of the Achilles tendon. The court concluded on 28 October 1918 that James should be discharged with a pension, as he was no longer fit to carry out military duties.
James died at home in Chester on 4 November 1918, having received the last rites. He was buried from St Werburgh's in Overleigh Cemetery on 8 November 1918 in Grave 873.
James was eligible to receive the 1914-15 Star, the British War Medal and the Allied Victory Medal. His name is on the Memorial Board in Chester Town Hall and was on the original Memorial Plaque in St Werburgh's Church, Chester. At first it had been omitted from the plaque, because James' ailing mother had not managed to contact the church in time. The plaque was made and erected, before James' mother realised her mistake. She contacted Canon Chambers, who in turn contacted Hardman's of Birmingham, who had manufactured the plaque. Hardman's manufactured a small separate bronze tablet, which was added to the plaque in situ.