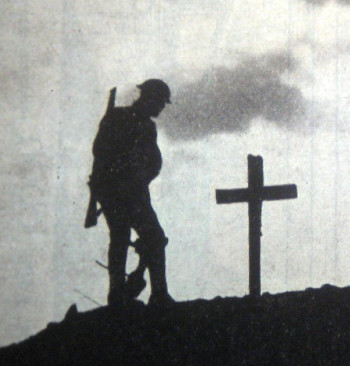 Philip Luke Harrington Kelly
Reg. Sgt Major 19th Btn Royal Welsh Fusiliers 23979
Died: 18-03-1916 age 52
Philip was born in Gibraltar ca 1864. He was the only child of Thomas Kelly and his wife Elizabeth nee Harrington. Philip's father Thomas was a musician in the Royal Navy. Philip's mother Elizabeth died soon after Philip's birth. Philip appears to have spent his early years with his Harrington relations in Portsea, near Portsmouth, and later enlisted with the Royal Welsh Fusiliers at a relatively young age. His original  enlistment papers have not survived. Philip married his wife Margaret in Galway on 3 February 1891. The couple moved according to Philip's military postings, with their first child Ida Frances being born in Galway, their second Margaret in Hong Kong and Lilian and Phyllis in places which are difficult to decipher on Philip's later army records. After several years service, Philip retired from the regiment and settled in Chester, becoming by 1911 the proprietor of the Red House Hotel, Dee Banks. Later he became proprietor of the Cross Foxes Hotel on the corner of Steam Mill Street and Boughton.
By the time WW1 broke out, Philip and Margaret, with their four children, Ida, Margaret, Lilian and Phyllis, were well integrated into Chester society. The Cross Foxes had always provided a centre for men working in the nearby flour steam mill, lead works and railway. The Kelly family were well known locally and though the younger two members of the family were still at St Werburgh's School in 1914, the elder two girls were at the forefront of Cestrian and St Werburgh's Parish life. In 1915 the annual St Patrick's Eve Concert, produced by St Werburgh's in Chester's Music Hall, featured Ida in a tableau (depicting Erin) and Madge (Margaret) who gave a recitation of 'Ireland's Reply to the Kaiser' and 'The Belgian Cross.' According to the Chester Chronicle of 20 March 1915, the girls were given rapturous applause. This was to be the last time that the whole family were to share in this annual social activity.
Philip Kelly enlisted with the 13th Battalion of Royal Welsh Fusiliers, his old regiment, at Llandudno on 14 May 1915, apparently aged 48 years 6 months. There may have been some 'confusion' on this occasion about his correct age. Philip was immediately promoted to Colour Sergeant. On 11 June 1915 he was promoted to Regimental Sergeant Major and transferred to the 19th Battalion. Unfortunately he was admitted to Chester Royal Infirmary on 09 March 1916 suffering with a fistula. He died on 18 March 1916 just after that year's St Patrick's Day festivities. Philip was buried on 23rd March in Overleigh Cemetery, Fr Hayes of St Werburgh's officiating.
His effects and medals were sent to his wife, together with a letter of condolence from the King and Queen.
Margaret Kelly later became proprietress of the Red Lion Hotel in Tarvin. She died in 1944.
Philip Luke Harrington Kelly and his wife Margaret are buried in Grave 258 of Overleigh Cemetery, Chester.