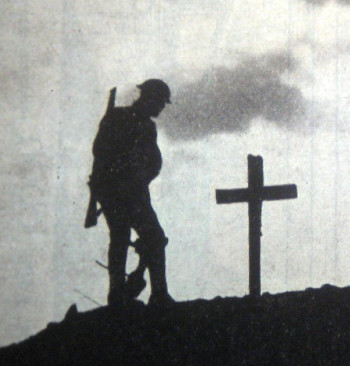 William Kennedy
Pte
Died: 1916 age 34
This man, whose name was mentioned on our original memorial plaque, could be Charles William Kennedy, son of Michael and Jane Kennedy nee Jackson, who were married in Chester in 1872. Michael was a tailor who had been born in Ireland and Jane was a local girl. Michael had a tailor's and linen draper's shop at 129-131 Foregate Street. The couple eventually had 5 boys, Charles William being the fourth. He was born on 12th May 1882 and baptised at St Werburgh's on 25th May 1882. He was also confirmed here in 1892. Charles' mother Jane died in June 1885 age 35. In the 1891 census the widowed Michael and his 5 sons are all still at home and all working in the family business.
In early 1901 Michael married Sarah Ann Roberts from Ness, and in the census later that year, Charles William is the only son still living in the parental home. By 1911 Michael had retired and his wife Sarah was running the Belgrave Hotel at 118 Foregate Street. In 1914 John James Kennedy, the eldest of the five brothers, was running a tailoring business from his father's former premises at 131 Foregate Street.
Pte William Kennedy was reported killed in action in the September 1916 issue of St Werburgh's Parish Magazine.
His father Michael died later the same year and was buried in Overleigh Cemetery, Chester.