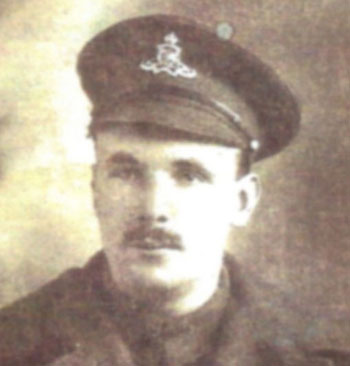 Francis Spiro Kerr
Gunner A Battalion 86th Brigade Royal Field Artillery 2919, 686600
Died: 04-08-1918 age 25
Francis Spiro Kerr was the eldest child of James Francis and Anagilica Kerr nee Argyros. Anagilica had come to Liverpool, from her family home in Corfu, in order to complete her education by becoming fluent in spoken English and perfecting her other accomplishments. Whilst in this country she met James Francis Kerr and the couple were married at St. Mary's Chapel, Warrington, on 22 November 1891.
Francis was born on 10 April and baptised on 23 April 1893, at Our Lady of Mount Carmel Church in Liverpool. The family were at that time living at 2 Vronhill Street in Liverpool, where James Francis was manager of a pawnbroker's business. Later the family moved to 172 North Hill Street and in 1900 to 70 Knowsley Road, Bootle. Each of their five children, Francis Spiro, Josephine Mary, James Leo, James Vincent and Dorothy Veronica, were baptised in Our Lady of Mount Carmel or St Patrick's Churches in Liverpool. Sadly James Leo died aged eight months and was buried in Ford Cemetery, Liverpool.
At some time between 1905 and 1911 the family moved to 19 Beaconsfield Street, Chester, in which city James Francis was manager of another pawnbroker's firm. The family became active members of St Werburgh's Parish. By 1911 James' son Francis had obtained a job as a clerk with a paint warehouse in Liverpool and was lodging with the Balfour family at 185 North Hill Street, Liverpool, close to one of their former homes.
On 1 December 1915 Francis Kerr enlisted with the West Lancashire Borderers of the Royal Field Artillery, giving his address as 81 Upper Stanhope Street, Liverpool.  He first had a period of home service. Francis' army papers are very sparse and difficult to follow chronologically. Some information seems to be missing. However, it appears that he was sent to France on 11 April 1917. His tour of duty in France was punctuated by ill health. On 10 May 1917 Francis was admitted to the 39th Brigade's General Hospital in Le Havre. On 16 May 1917 he was posted to reinforce Le Havre. On 28 May 1917 he was posted to 86th Brigade's Field Hospital. In August 1917 his father, James Francis Kerr, died in Chester and his name was published in the September issue of St Werburgh's Parish Magazine. Francis was awarded two weeks leave in the UK, from 12-26 January 1918, for unstated reasons. In April 1918 Francis was reported as having been missing since 21 March 1918 and later, on 4 August 1918, he was reported dead.
Some members of Francis' family have remained in the Chester area and have supplied information and a picture. He was eligible for the British War Medal and the Allied Victory Medal. His family can remember the plaque which Francis' mother received but it is no longer in their possession.
Francis was buried in Grave VE 11 Valenciennes (St Roch) Communal Cemetery.