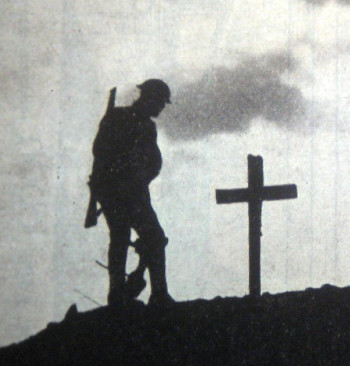 Thomas King
Pte 1st-7th Cheshire Regiment 4085, 241342
Died: 14-10-1918 age 21
Christopher King and his wife Ann nee Tuite arrived in Chester from Ireland in the late 1830s. They lived in Boughton, where Christopher worked as a shoemaker, and here the couple brought up their family of six children. One of their children, Thomas, married Ann Allen in 1879 and the couple moved to 4 Edwards Court. Thomas worked as a labourer. By 1891 Thomas and Ann, with their family of 4 children, lived at 6 Seaville Street. In 1897 Thomas Jnr was born on 6 June and baptised at St Werburgh's on 27 August of the same year. Thomas was the youngest of the eight children who were born to the couple. All were baptised at St Werburgh's. Sadly five of the eight failed to survive either infancy or childhood and so only Margaret, Catherine and Thomas reached maturity. In 1900 Thomas Snr died in the workhouse at Chester and was buried, by Fr Maurice Hayes of St Werburgh's, in the workhouse cemetery. In 1901 Thomas Jnr age 5 was the only child living at home with his mother, at 9 Bellis' Court, Cuppin Street. His mother Ann worked in a market garden.
However, life as a widow must have become more difficult for Ann King and by 1911 Thomas, age 13, resides at an Industrial Boarding School in Llandegla, North Wales. Orphaned children, children with a parent who was ill, or children thought to be at risk of falling foul of the law, were often reared at these schools. The children were educated there and also learned a trade. We do not know how long Thomas was at the school, or for how long after 1911 he stayed there.
Meantime, Thomas' sister Elizabeth had married Alfred Patrick Gough in January 1903 at St Francis' Chester. Gough was a regular soldier who moved around the country as his postings demanded. Because of this, the couple's four children were born in different parts of the country. Gough's service ended in 1913 and, some time after this, the family settled in Runcorn. Thomas then appears to have joined his sister and her family there. Gough worked at Union Salt Works in Runcorn and probably arranged for Thomas to obtain a job there. Both men are listed amongst Union Salt workers who enlisted during the Great War.
When war broke out in 1914 Gough immediately rejoined his old regiment, the Cheshires, enlisting at Chester. Thomas probably joined at around the same time. He would have been 17 years of age, would have received his first service number and was then assigned to the Infantry Base Depot of the 5th Battalion Cheshire Regiment. Later he was transferred to the 5th Battalion Cheshire Regiment Infantry Base Depot and given his second service number. Later still he was at the Infantry Base Depot of  the 7th Battalion Cheshire Regiment and was eventually sent to France and Flanders.
Because his enlistment papers have not survived, we have few details of Thomas' army service. The only certainty is that he was killed in action on 14 October 1918. The Battalion's war diaries reveal that at 05.35am on 14 October 1918, the Cheshires attacked enemy positions near Menin, on a wide front. Unfortunately an initial bombardment of the enemy lines had failed to remove all hostile strong points. However, the barrage had produced a great deal of smoke. This made it difficult for the Cheshires to move forward accurately towards their objectives, whilst being subjected to fire from the remaining hostile strong points. Most casualties were sustained in this first stage of the attack, the majority falling within two or three hundred yards of the jumping off tape. It is probably here that Thomas fell.
The operation was completed by the evening of 15 October 1918. During the operation two officers and 23 other ranks had been killed, one officer and 81 other ranks were wounded and 13 other ranks were missing. 200 prisoners had been captured and large quantities of armaments had been taken.
Thomas was buried in grave XX.D.11 of Hooge Crater Cemetery. His effects were left to his sister Margaret Ann Gough, who was his sole legatee. His name is on the Memorial Board in Chester Town Hall and the Memorial Board at Union Salt Works Runcorn. Thomas was entitled to receive the British War Medal and the Allied Victory Medal.