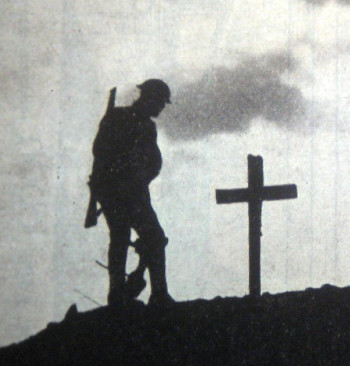 James Kirby
Pte 1st Btn Royal Welsh Fusiliers 4374
Died: 25-09-1916 age 23
James was the son of Peter and Mary Kirby nee Walsh, of Parry's Entry, Foregate Street, and later of Steam Mill Street, Chester. He was one of the five surviving children of the nine born to the family. His elder siblings were Catherine Mary, Peter and Joseph. He also had a younger brother Ernest. James was born on 13 December and baptised on 25 December 1892 at St Werburgh's.
After school James worked as an agricultural labourer. His father Peter died in 1908 and on 23 August 1911 James, aged 18 years 8 months, enlisted with the Royal Welsh Fusiliers at Wrexham. His postings were home ones until 11 November 1914 when he was sent to France. The dates thereafter on his army service record do not strictly tally with the dates on his army  medical history notes. However, what is certain is that James was posted home around the end of December 1914. On 24 May 1915 he was recorded as having deserted. On 21 June 1915 a military trial was dispensed with and he was discharged on 28 July 1915 due to the fact that injuries meant that he was physically unfit to carry out the duties of a soldier.
James' army medical board records of 6 July 1915 may help us to understand the meaning behind these bald and contradictory statements on his army record. Medical Board records state that James had been in action on 29 December 1914 at Armentieres. He had received gunshot wounds to his back and left arm and lay for nine hours before receiving medical attention. He was operated on for emphysema following double pneumonia, in hospital. The wounds on his back were healed and healthy. However, the gunshot wounds at the junction of the mid and lower thirds of the left upper arm resulted in the paralysis of the motor and sensory neurones. His hand was clawed and blue. There was atrophy of the muscles from shoulder to fingers, which showed no sign of improvement. X-rays revealed the presence of many minute foreign bodies in the arm.  He was awarded a pension of 18 shillings and nine pence per week and ordered to report to another medical board on 7 June 1916. At this second medical board the police corroborated that James had received no earnings during the intervening period. Neither had his medical condition improved.
Three months after this medical board, James died. He was buried on 3 October 1916, in Overleigh Cemetery, Chester, Grave 1168, Fr Young of St Werburgh's officiating. His grave is under the care of the Commonwealth War Graves Commission.
James was entitled to the 1914 Star, the British War Medal and the Allied Victory Medal.