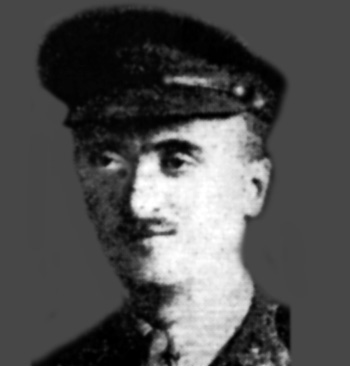 Thomas Henry Lowe
2nd Lt 7th Btn Border Regiment
Died: 23-04-1917 age 32
Thomas was the only son of Mr and Mrs Henry Lowe, and was born in 1884 in Barrow-in-Furness, Lancs. His family later moved to Liverpool. Thomas entered the service of Parr's Bank in 1905, serving first at the Waterloo Branch and then in October 1911 he was transferred to Chester, Eastgate Branch. It was whilst here that he joined the congregation at St Werburgh's and made the acquaintance of Blanche Marie Louise Genevieve Cottier.
Blanche was the eldest child of Francois Cottier, a notable French chef/restaurateur who had a business in Foregate, Chester. Her mother was Ellen nee Berry. Blanche was a music teacher, specialising in piano, and an accomplished concert contralto. She acted as accompanist at the St Patrick's Day concerts produced at the Music Hall Theatre near the Cathedral, both by St Werburgh's and St Francis' Parishes. She was also much in demand as a classical singer at local and northern concert halls.
In the early days of the war Thomas joined the Citizens Volunteers and then, in July 1915, he  was sent to the Inns of Court O.T.C. In December he was gazetted to a commission in the Border Regiment, where at first he acted as a bombing instructor at a home camp. However it was only a question of time before he would be sent overseas.
On 8 February 1917 Thomas Henry Lowe married Blanche Marie Louise Genevieve Cottier, at St Werburgh's Church, Chester. The witnesses at the marriage were Henry Raynard of 34 Newry Park, Chester, and Blanche's younger sister, Doris.
Blanche continued to live at her family's home of 'Mullingar' Liverpool Road, Chester, whilst her husband Thomas took up his posting in France. He was reported missing towards the end of April. By May it was confirmed that he had been killed in action. His Obituary appeared in the June 1917 issue of St Werburgh's Parish Magazine. According to the Cheshire Observer of Saturday 2 June, Mrs Blanche Lowe was inundated with letters of condolence, from Buckingham Palace, the War Office and different army officers. All stressed both Lt Lowe's abilities as an officer and his gallantry.
Blanche's brother, Leon Louis Cottier, served with the Royal Garrison Artillery during WW1 and survived this conflict to return to Chester. However, he died in 1920 and was buried in Overleigh Cemetery. Mrs Ellen Cottier died in 1935 and her husband François died in Chester age 77, in 1937. Both are buried in Overleigh Cemetery in the same grave as their son, Leon.
Blanche had no child and remained a widow until her death in Runcorn in 1971 at the age of 88. Doris Cottier remained single and died in 1978, in Chester, at the age of 80.
Thomas Henry Lowe's name is listed on the Arras Memorial, Pas de Calais, France, Bay 6. In Chester his name is on the Memorial Board in the Town Hall, in the National Westminster Bank at 33 Eastgate (formerly Parrs Bank) and that in St Werburgh's Church. He was entitled to the British War Medal and the Allied Victory Medal.