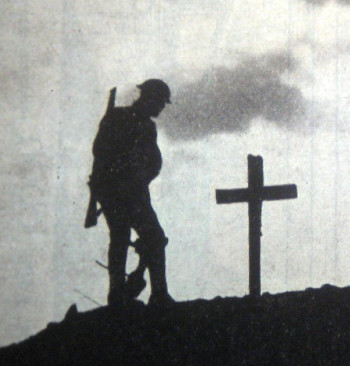 John Ludden
Pioneer 9th Labour Company, Royal Engineers 122804
Died: 15-05-1916 age 46
John was the son of Thomas and Bridget Ludden nee Nyland of Newport, Shropshire. John was born there in 1870, the eldest of a family of nine siblings, Mary, Ellen, Thomas, Daniel, Patrick, Martin, Bridget and Catherine. Sadly Bridget died soon after her birth.
In 1893 John's mother Bridget died, followed by sister Mary and Patrick's wife Catherine in 1897. Catherine left a small son, Daniel. Some time after this, John and his younger brother Thomas moved to Chester. This could have been because there was another Ludden family living in Chester at the time, to which John's family may have been related.
John worked as a bricklayer, boarding with many similarly employed men at a lodging house at 17 Claremont Walk, Boughton. Thomas was a fish seller and boarded at the Elephant and Castle in Northgate Street. Their younger brother Martin died in 1901 age 19 and their father died in 1903, both in Newport, Shropshire. After this, the other two brothers, Patrick and Daniel, with their sister Catherine also moved to Chester, presumably bringing Patrick's son Daniel with them. Their sister Ellen had married in Newport in 1902. Thomas Ludden married Mary Walsh at St Werburgh's Chester in October 1904 and was at that time living in Princess Street, Chester. Later in that same year, his brother Patrick died and was buried in Overleigh Cemetery. His sister Catherine married Patrick Kelly at St Werburgh's in 1910.
In 1902 John had married Catherine Hunt in Oldham. The family then lived at 47 Derwent Street, Oldham, and in the 1911 census the couple had four children, Thomas, Catherine, Mary and Ellen. In 1913 their son John was born. The family may also have had some care for Daniel, John's orphaned nephew, who was an apprentice baker in Oldham.
John's enlistment papers have not survived, so there are few details of his military service. However on his Medal Roll Card it states that he served in France from 2 October 1915, indicating that he probably enlisted in the latter part of 1914 or early in 1915. He served there until his death from wounds on 15 May 1916. Pte John Ludden was reported killed in action in the June 1916 issue of St Werburgh's Parish Magazine. His effects were sent to his wife Catherine, at 14 Woolscott Street, Oldham.
John is buried in Grave VIII.A.110 in the Eastern Part of Boulogne Cemetery.
He was entitled to receive the 1914-15 Star, British War Medal and the Allied Victory Medal.