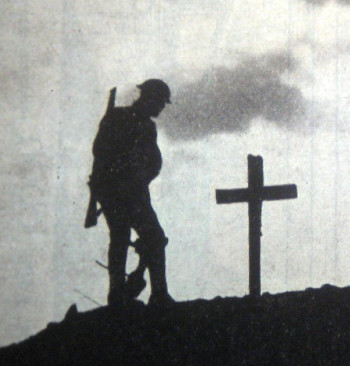 Owen McCleary
Pte Welsh Regiment 27228
Died: 08-08-1915 age 28
Owen was the son of Christopher and Julia McCleary nee Flynn, who married in Manchester in 1868. Christopher had been born in County Mayo but lived in Dublin with his three brothers for a short while, before coming to England. One brother settled in Manchester, two in Chester and the fourth in an unknown town. Christopher and the brother who also settled in Chester were tailors.
Christopher and Julia set up house in the Boughton area of Chester and brought up their family of eleven children there. Owen was born in 1887 and was baptised, as all his siblings had been, in St Werburgh's Church, shortly after. He was also confirmed there in 1899. All the McCleary siblings attended St Werburgh's Schools. In 1891 the family lived at 12 Steam Mill Street but by 1901 they had moved to number 1. In 1911 they were at 3 Fosbrook Street.
Owen's enlistment papers have not survived but his medal roll card has. This implies that he had enlisted in 1914. He took part in the Balkans campaign, first entering the theatre of conflict on 4 July 1915. One month later he was missing presumed dead at Gallipoli. Six months later he would have been officially registered as such.
Owen was buried at Gallipoli, Carakkale, Turkey and is named on the Helles Memorial. He was entitled to the 1914-15 Star, the British War Medal and the Allied Victory Medal. Owen's name is also on the Town Hall memorial, Chester, though his regiment is incorrectly named.