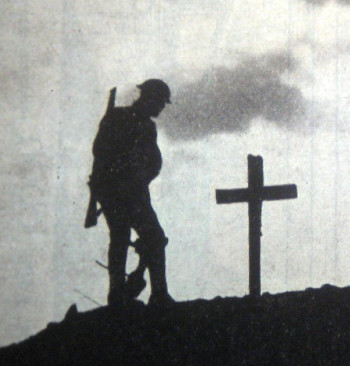 Thomas Patrick McElmeel
Sgt 20th Btn Manchester Regiment 25924
Died: 04-10-1918 age 26
Thomas was the son of Patrick and Ellen McElmeel of 17 Seaville Street, Chester. Patrick was a bricklayer. By 1911 the couple had been married for 21 years and ten children had been born to them, five of whom had died in infancy. The surviving children were Thomas, John, James, Felix and Elizabeth Rose. Thomas, John and Felix were confirmed at St Werburgh's in 1905.
After war broke out Thomas, John and James enlisted. Thomas enlisted with the 27th Reserve Battalion of the Manchester Regiment on 18 November 1915, age 23, at Prees Heath. His army career progressed very smoothly. He was appointed Lance Corporal on 3 February 1916, Corporal on 23 June 1916, Lance Serjeant on 10 July 1916 and Serjeant on 22 August 1916. Thomas spent the first year in training at home. He was in France from January 1917 until October 1918, with spells of leave from the front.
Thomas was killed in action on 4 October 1918 and was buried in Beaurevoir Communal Cemetery, British Extension, Grave B6. His younger brother John survived the war but James died. Felix was too young to enlist. Thomas' father Patrick received his British War Medal and Allied Victory Medal, after the end of the Great War. Thomas' name is listed on the Great War Memorial Board in Chester Town Hall.