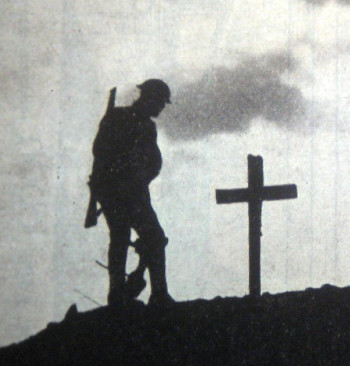 John McGetrick
Gunner 168th Siege Bty Royal Garrison Artillery 284995
Died: 21-10-1918 age 36
John, with his younger sister Mary Ellen (Nellie), was one of the two surviving children of Thomas and Rose McGetrick nee McLoughlin, both of whom had been born in Chester. Eleven other siblings had died in infancy. John was born on 7 January and baptised on 22 January 1882, at St Werburgh's, where his father had also been baptised. The family lived at 10 Love Street and later at Canal Side. From 1901 until 1905 John served with the Royal Garrison Artillery, No. 9995. He was discharged in June 1905 after four years, as he was deemed medically unfit to work out the remainder of his service.
On 1 November 1910 John married Mary Serdiville at St Francis, Chester and the couple lived at 19 Suffolk Street. At that time John worked as an asylum attendant in Chester. Later the couple moved to 27 Cornwall Street.  Their son, John Vincent, was born on 19 July 1913 and baptised on 21 August 1913 at St Werburgh's. Sadly John Vincent died in March 1914 and was buried on 2 April in Overleigh Cemetery. After this, John and Mary moved to Westbury-on-Severn, Gloucestershire, where John worked as a male nurse at the asylum in Westbury. The couple lived in one of the cottages on the asylum estate. It is not clear whether John had moved voluntarily, or whether he was redirected due to war conditions.
On 13 September 1916 John had an army medical at Harfield Barr, Bristol. It was noted that he had been previously discharged from the army due to ill health, but that this was not sufficiently severe now as to cause his rejection from service. John enlisted on 22 January 1917 and was posted immediately to the depot of his former unit, the Royal Garrison Artillery.  He had several postings to different R.G.A. Depot in this country, including Catterick. Though his army papers are difficult to decipher it appears that John was posted in early 1918 to France. He experienced an intense gas attack in October 1918 and was taken to No. 9 General Hospital in Rouen. Here he died on 21 October 1918 from a mixture of the effects of gas and influenza. John was buried in Grave S.II.R.6 of St Severin Cemetery Extension, Rouen.
His effects, which consisted of letters, two crucifixes, a silver watch and strap, key, rosary, three badges, gold shell ring with stone metal ring, purse, two wallets, coins, photos and cards, were forwarded to his wife Mary, at the asylum cottages at Westbury-on-Severn. In 1922, his next of kin, for purposes of receiving medals, apart from his wife, included his parents who were now living at 4 Love Street and his sister Mrs Nellie Davis, living at Wellington Street, Chester. John was entitled to receive the British War Medal and the Allied Victory Medal.