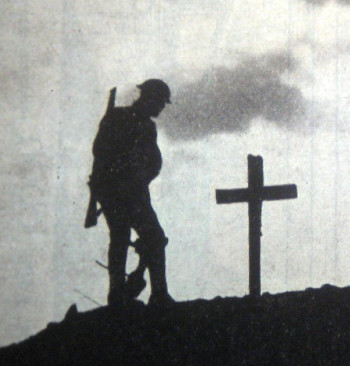 John Strain McGrogan
Bmdr Calcutta Volunteer Artillery Bty of the Indian Army, Royal Field Artillery
Died: 07-01-1917 age 27
John was the elder child and only son of John Sinclair McGrogan and his wife Minnie, nee Anderson, who had married in 1888. He had a younger sister, Wilhelmina Govanloch McGrogan. John Sr was a tailor's cutter and moved from town to town plying his trade. The two children were born in Queensferry, Linlithgowshire, Scotland, John in 1890 and Wilhelmina two years later. In 1901 the family was living at 2 Eyre Terrace, Edinburgh, but by 1911 the family were at 108 Lowther Street, Penrith. Interestingly John Jr, age 21, is missing from this family entry in the census. He is listed separately as a lodger with John and Ellen Buckingham, at 199 Great Cheetham Street, Manchester, and working as a tailor's cutter like his father.
The next official appearance of John Strain McGrogan is in the records of the Peninsular and Orient Shipping and Naval Company, where he is listed as a passenger on the 'Borneo' travelling to Calcutta. He had sailed from London on 19th July 1913. The ship's documents do not state his reasons for travel, so we can only assume that John was seeking adventure and was going to ply his trade in India. According to the Penrith Observer of Tuesday 9 October 1917, John then took up a position with an important firm of clothiers in Calcutta. Presumably his career was developing well, until his life was turned upside down by the Great War. John appears to have enlisted early after the start of hostilities with the Calcutta Volunteer Artillery of the Indian Army, and according to the Penrith Observer of 10 August 1915 he embarked at Bombay for the Persian Gulf, around 15 July 1915. From there he went to Mesopotamia as part of the 6th Indian Division, which was stationed there throughout 1915. John was part of General Townsend's garrison at Kut-al-Amara, which was then besieged from 7 December 1915 by the Turks. During this time John acted as an interpreter to General Townsend and also to the Turks. Kut fell on 29 April 1916 and John, who was wounded, was then taken as a POW.
Subsequent developments are well documented in books such as The Siege by Russell Brandon. Apparently the men of the surrendered garrison were force marched 100 miles to Baghdad, where they were paraded through the city. They were then marched to a railhead near Mosul, 300 miles distant. Here they were crammed into railway cattle trucks for the next part of the journey, during which many died en route. The rail journey was broken by two sections on foot, the first to cross the Amanus mountains and the second to cross the Taurus mountains. The railway sections were incomplete in these two locations and were being worked on by gangs of POWs. Those incapable of such work were moved to the main camp of central Turkey, Afion Kara Hissar. This is where McGrogan was in October 1916. From here some POWs were sent to Angora (modern day Ankerra) to work on road building. It was at Angora that John Strain McGrogan finally died on 7 January 1917, of chronic enteritis. Half of the British POWs died under this harsh regime, which did not start to improve until mid 1917, after John's death.
(The information in this paragraph was supplied by Charlie Farley of the Great War Forum.)
John's parents were not informed of his death until Thursday 5 October 1917, when a message was received from the Ottoman Red Crescent that their son had died on 7 January 1917 from chronic enteritis. Throughout his captivity his parents had only received one written message from John, written about a year before the message of his death. The contact address of his parents at this time was 14 Station Road, Padiham, Burnley. This letter could have been written from Afion Kara Hissar and from it, together with the message concerning his death, received from the Red Crescent via the Red Cross, his parents believed that at some stage John had been imprisoned at Aleppo, where he had contracted sleeping sickness and had been treated at the American hospital there, before his journey to Angora.
One mystery about John Strain McGrogan is that we have no idea how his name came to be listed on our original Great War Memorial Plaque. We can only surmise that he lived for a short time in Chester, most likely between April 1911 and July 1913 when he left for Calcutta. He may have come to Chester on his own or perhaps with his parents. His parents, if they lived here, had obviously moved to Padiham by the time that John had enlisted. Later still they moved back to Penrith in Cumbria.
The November 1917 issue of St Werburgh's Parish Magazine stated that John Strain McGrogan had died as a Prisoner of War in Turkey. His name is listed on the Angora Memorial 110, Baghdad (North Gate) War Cemetery, on the special Kipling Memorial. It was to this cemetery that bodies of soldiers who had been buried in cemeteries in Anatolia, Turkey were brought for reburial. John's name is also listed on the memorial in St Catherine's Catholic Church, Penrith, near where his parents and sister remained for the rest of their lives. John Strain McGrogan was entitled to the 1914-15 Star, the British War Medal and the Allied Victory Medal.