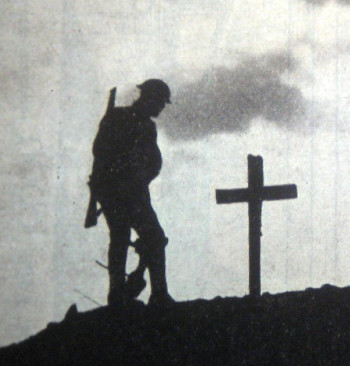 John Henry Moran
Gunner 248th-15th Siege Bty Royal Garrison Artillery 28469
Died: 16-12-1917 age 24
John Henry Moran was the eldest child of Michael Moran and his wife Ellen nee Molyneux. Both parents were Cestrians, Michael having been brought up in Steam Mill Street and Ellen in Commonhall Street. Michael was a professional soldier who was also a Catholic, whereas his wife Ellen was Anglican. Ten children were born to the couple, John Henry, Martha, Ellen, Thomas, Michael, Mary Alice, Margaret May, Florence Hannah, Dorothy and Phyllis. The eldest two children were baptised twice, once in a Catholic Church and again in an Anglican Church. John Henry himself was born on 19 December 1892 and was baptised at St Werburgh's on 11 January 1893. On 24 May 1893 he was baptised for a second time at the Anglican Parish Church of St Mary-on-the-Hill. His younger sister Martha was baptised both at St Francis Catholic Church, Chester and St Brigid's Anglican Parish Church. For the remaining children it appears that only an Anglican baptism was carried out.
It speaks volumes for the lives of ordinary people at this time, that only one of their children, Michael, lived out a normal lifespan, dying age 55 in 1955. Five of his siblings died in infancy or childhood, three died around the age of 20 and his elder brother, John Henry, died during the Great War.
In 1901 Ellen and her children lived in Jupps Court, Commonhall Street. Her husband Michael was in Africa taking part in the Boer War. By the next census in 1911 Michael was back in Chester, having left the army, and was working for Chester Corporation and living at 15 Leadworks Lane. However, in the intervening time five of their children had died. Their eldest son John Henry had now joined the Royal Garrison Artillery (presumably under age) and was serving with 99 Company in Malta.
In 1913 Michael Moran died and in 1914 the Great War started. John possibly simply continued with his pre war army service. In early 1915 he married Hilda Harker in Strood, Kent, and on 12 July 1915 John was posted to France. John and Hilda's only child, also called John Henry, was born in early 1917. Later that year, on 16 December, John Henry Moran was killed in France and his body was given a battlefield burial.
Later John's body was reburied in grave II.C.10 of Gouzencourt New British Cemetery. The Commonwealth War Graves Commission papers indicate that a cross was inscribed on the headstone. John was entitled to receive the 1914-15 Star, the British War Medal and the Allied Victory Medal. Sadly, history was to be repeated when John's son, John Henry Moran, fell during the Battle of Monte Cassino, Italy on 18 February 1944.