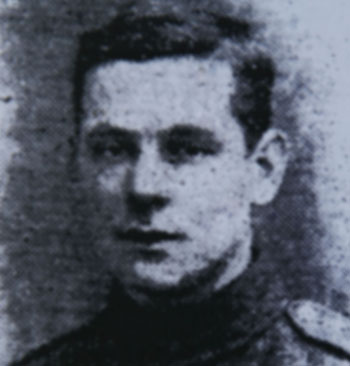 Alfred Mullins
Pte 1/5th Btn Cheshire Regiment 50560
Died: 14-04-1917 age 19
Alfred was the son of John and Ann Mullins nee Moran of 19 William Street, Chester. His father had been born in Halifax, Nova Scotia and his mother was born in Chester. They were married at St Werburgh's on 20 February 1897. Alfred was the eldest of their five children, his siblings being Constance, Winifred, John and Ann. All the children were born in Chester, all were baptised at St Werburgh's and all of them attended St Werburgh's Schools. Sadly Constance died age 3, in 1902. Alfred was confirmed here in 1909, later became a member of St Werburgh's Club and was an active worker in the affairs of the church.
In 1911 Alfred was an apprentice joiner with the McPhelan Brothers Builders on Cow Lane Bridge. Alfred enlisted on 10 December 1915, first joining the 4th reserve Battalion of the Cheshire Regiment. On 4 July 1916 he was transferred to the 1/5th Battalion. On 9 February 1917 he was posted to the British Expeditionary Force to go to France, disembarking at Rouen on 11 February 1917. Here he joined the 1st Battalion on the 27th of that same month. Alfred's conduct during military engagements was such that his name was listed in the De Ruvigny Roll of Honour. He was killed in action on 14 April 1917. Pte Alfred Mullins was reported dead in the June 1917 issue of St Werburgh's Parish Magazine.
Alfred's name is listed on the Arras Memorial, Faubourg D'Amiens Cemetery, Pas de Calais, France - Bay 5 and 6. In Chester his name is listed on the WW1 memorials in the Town Hall and in St Werburgh's Church. He was entitled to the British War Medal and the Allied Victory Medal.