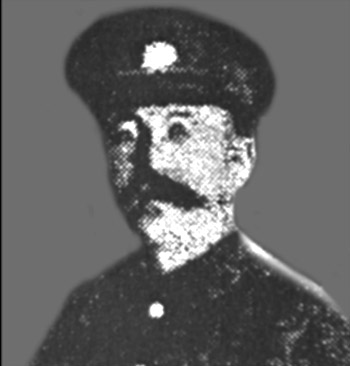 Joseph Murphy
Driver 1st Company, Army Service Corps, Catterick TS/268A
Died: 21-11-1916 age 40/46/55
Joseph was born in Ballingarry, Limerick. His wife Mary Bridget was born in Limerick City. The couple were married in Dublin on 2 April 1896. Joseph had previously been married to Mary's sister and they had an infant son, also called Joseph. Joseph Jnr's mother had died soon after his birth. Mary married Joseph Snr to prevent the child, her nephew, being taken into care. Joseph had served a seven year apprenticeship as a tailor with Messrs Brothers and by 1902 the family had moved to Cork City, where the two eldest of their surviving children Albert George and Victoria Bridget were born. Later they moved to Liverpool, where May Margaret was born in 1907. In the 1911 census the family lives at 46a Haigh Street, Liverpool. Both Joseph and Mary record their ages as 39 years. Joseph Jnr is not living at home.
Sometime between 1911 and 1914 the family moved to Chester, where Joseph was employed by Messrs Delany of Northgate Street. They lived at 36 St James' Street and joined the congregation at St Werburgh's Church.
At the outbreak of war Joseph enlisted immediately in Chester, for the duration of the war, giving his age as 38 years. He spent most of his military service stationed at Catterick Camp, in North Yorkshire. He was able to get weekend leave from time to time and so was able to visit his family in Chester. The Chester Observer of Saturday 7 December 1916, which gives Joseph's age as 46, also states that his son Joseph enlisted at the beginning of the war, with the East Lancashire Regiment, and served throughout the Dardanelles campaign.
On the night of Saturday 18 November Joseph was walking along the road back to camp. Near the camp he was knocked down by a car. Joseph, concussed and bleeding, was taken to the camp hospital, where he never regained consciousness. His next of kin was stated as being present at his death on the following Tuesday. He was laid to rest on the following Saturday, in Catterick Cemetery, Grave BB6, with full military honours. Wreaths were sent by officers, NCO's and privates of his company.
The army medical officer reported that the symptoms displayed by Joseph during his last days indicated that he had suffered laceration of the brain. He also noted that Joseph appeared older than his attested age and was in his opinion at least 55 years old.
An inquest held on 7 November 1916 decided that the death had been due to a tragic accident and later his widow was awarded 15 shillings per week for the duration of the war and 12 months thereafter.
Joseph would not have been entitled to receive any military campaign medals, as he did not take part in any campaigns abroad. His grave is however marked and maintained by the Commonwealth War Graves Commission.
It is unusual, though not unheard of, in the annals of St Werburgh's, to have two generations, father and son, on active service during the Great War. It is unusual, however, for them both to have the same name. The opportunities for confusion are multiple.
The family of Joseph Murphy remained in Chester and Joseph's daughter May was educated at St Werburgh's Schools, until the age of fourteen. Her elder sister, Victoria, married Leonard Kilbank at St Werburgh's in 1925. The couple later moved to Lancashire.