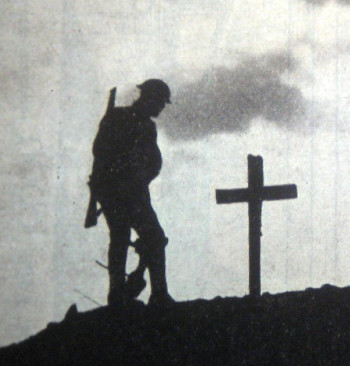 Maurice Murphy
Pte 2nd/9th Btn Manchester Regiment 352363
Died: 09-10-1917 age 20
Maurice was the younger son of John Murphy and his wife Ellen nee Kennedy, both of Crook Street, who were married on 9 November 1893 at St Francis' in Chester. John had been born in Ireland and Ellen was born in Burslem, Staffordshire. John worked as a nursery gardener and the family lived at 7 Claremont Walk, Chester. They had two sons, Michael, born in 1896, and Maurice, born 25 August and baptised 12 September 1897 at St Francis'. Sadly Ellen died in 1903 and on 3 March 1908 John married Mary Byrne at St Francis' in Chester.
By 1911 the family had moved to 1 Edward's Court, Princess Street, and Michael had left St Werburgh's School to work as an assistant to a hairdresser. Maurice was still at St Werburgh's School. Both brothers were confirmed at St Werburgh's Church in 1912. Maurice left school at about this time and started work at the Co-op store on George Street in Chester.
Maurice's enlistment papers have not survived, so it is difficult to uncover any details of his military service. However we do know from Chester Chronicle reports that all three male members of the Murphy family, father and both sons, were on active service abroad during the Great War. Maurice's medal roll card indicates that he probably enlisted in 1915 or 1916 and died during the third Battle of Ypres, often referred to as Passchendaele. He is buried in Grave IX.E.1 at Passchendaele New British Cemetery. Maurice was entitled to receive the British War Medal and the Allied Victory Medal. His name is on the Memorial Board in the Town Hall, Chester.