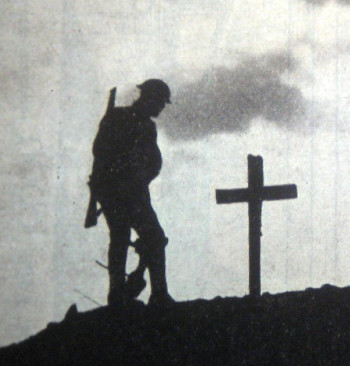 John O'Hara
Pte
Died: 1916
There is some confusion about the possible identity of the man listed on our memorial board, who had been reported killed in action in the October 1916 issue of St Werburgh's Parish Magazine.
He is possibly the son of Francis O'Hara (son of Cornelius) and Agnes O'Connor, married 13 May 1896. John O'Hara was born in 1897. This would make him 19 years old when he died.
James and Winifred O'Hara nee Armstrong were also members of the parish, living at 112 Boughton. They had children Mary Kathleen 1910, James Joseph 1911, Winifred Rose 1913, Eileen 1914, all of whom attended St Werburgh's Schools. Mary, the child who entered in 1915, has her next of kin stated as James O'Hara and address as 110 Boughton. Subsequent children have their next of kin stated as Winefride O'Hara, with the same address. Perhaps it should be James O'Hara on the memorial board, not John.
John O'Hara, godfather to Mary Kathleen on 27 March 1910, eldest child of James and Winifred, could be the brother of James and the man listed on St Werburgh's Memorial.
James O'Hara has a brother John who lives in Liverpool. He married a Liverpool girl Ann in 1910 and they had a son James in 1911. John was aged 25 in the 1911 census and he could also be the person who died.
The Commonwealth War Graves Commission gives John O'Hara son of James and Catherine of Annaghmore, Kilfree, Sligo, Ireland. James O'Hara of Chester was born in the same place.