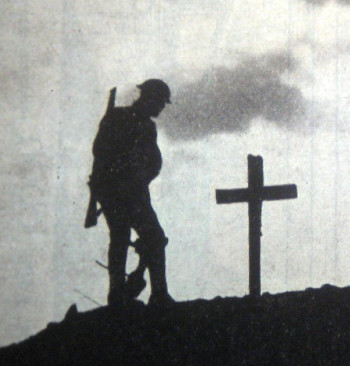 Michael Patterson
Pte 2nd Btn Cheshire Regiment 10324
Died: 16-04-1915 age about 39
Michael was born in Chester, the son of David and Mary Ann Patterson nee Carlin of Foregate Street. He first joined the Cheshire Regiment in 1895 aged nearly 19 years. He served for 16 years, seeing three and a half years service in India, until in 1911 he was discharged to the Special Reserves.
In 1911 he married Mary Eileen Campbell at St Werburgh's and their daughter Mary Eileen was born the following year. She was baptised on 12 January 1913 at St Francis, as the family were then living in Knights Court, Beaver Street, Chester.
When WW1 broke out Michael re-enlisted with the Cheshires, at Stockton-on-Tees, for one year's service with the Special Reserve. Michael arrived in France on 11 March 1915 and the 2nd Battalion were billeted at Vlamertinghe from 12 April. On 15 April at 5.00pm the Battalion proceeded to Zonebeeke via Ypres, to relieve the 8th Battalion Middlesex Regiment in trenches. By 2.00 am on 16 April the trench relief was completed, with the Battalion occupying the Right Sector of Brigade line, named A Sector 1-2-3. By 12 noon two other ranks had been killed and three wounded. Michael could have been one of the two killed.
Michael Patterson was reported killed in action in the June 1915 edition of St Werburgh's Parish Magazine. Michael's wife had died in 1918 and so Michael's seven year old daughter Mary Eileen received her father's plaque, memorial scroll and message from the King, in 1919. Later she also received his 1914-15 Star, British War Medal and Allied Victory Medal. Miss Mary Eileen Patterson was living with her maternal grandmother, Mrs Edith Gough of 27 Seaville Street, Boughton, Chester at this time.
Michael Patterson's name is recorded on the Ypres (Menin Gate) Memorial, West-Vlaanderen, Belgium, Panel 19-22. In Chester it is written on the WW1 memorials in the Town Hall and in St Werburgh's Church.