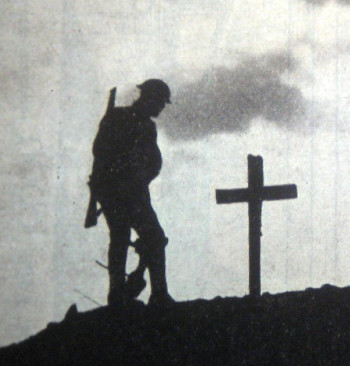 Albert Henry Pickering
Gunner 6th Siege Bty Royal Garrison Artillery 24398
Died: 22-07-1915 age 36
Albert was born in Co. Durham the son of Thomas and Mary Pickering. He had elder siblings William, Thomas, Anne, Elizabeth, Frederick and Isobel, and a younger brother Joseph. The family moved around the northern part of England, presumably following the work available to Albert's father. In the 1891 census his father is employed in the iron works at Redcar and Albert is still at school, though aged 15 years. As normal school leaving age was 13, this suggests that Albert may have been receiving what was referred to as 'secondary education'. In 1913 Albert married Teresa Gibbin, in Middlesborough, and in late 1914 their daughter Kathleen was born.
Albert must have enlisted immediately war broke out because his medal roll card states that he entered a theatre of war (presumably France and Belgium) on 25 September 1914. According to the report in the Chester Chronicle of 24 July 1915 Albert had been wounded on New Year's Day. He was later transferred to Chester Royal Infirmary suffering from blood poisoning set up by his wound. According to the records at St Francis' Church, Chester, he died on 20 July 1915 having been  given the last rites. He was buried on 24 July in Grave 4060 of Overleigh Cemetery.
Albert was entitled to receive the 1914 Star, the British War Medal and the Allied Victory Medal. His name is on the War Memorial in St Peter's Church, Redcar.