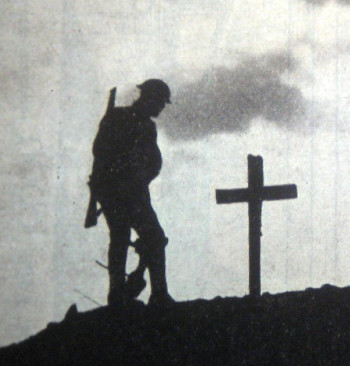 John Rafferty
Pte 1st/5th Btn Cheshire Regiment 241037, previously 3480 Infantry Base Depot
Died: 19-04-1917 age 34
John was born in 1883 in Chester, the son of Thomas and Mary Rafferty. Thomas was a general labourer. John had two older brothers and a sister, Thomas, James, and Mary. He also had a younger brother Henry. In 1901 the family lived at 2 Bateman's Court, Foregate, Boughton, when John age 17 was working as a seed shop porter. This was probably at Dicksons Seeds in Eastgate, Chester. James Rafferty enlisted with the A.S.C. in 1903, where his profession was stated as a groom.
In 1908 John's father Thomas died and also John married Sarah Ann Murray of St. Helens. By 1911 John was working as a market gardener, probably for Dicksons Seeds in Newton-by-Chester. The couple lived at Greenock Place, Crook Street, Chester and had two children, Margarite age 2 and John, 3 months old. Both children had been baptised at St Francis' Chester. Sadly the baby John died before his first birthday.
Brothers Thomas and Henry lived with Mary Rafferty Snr, now a widow, at 8 Victoria Buildings, Lower Bridge Street, Chester. John's sister Mary had married Mark Walsh at St Werburgh's in 1910. Meanwhile their brother James' health had deteriorated and he died in 1913 at the Old Sarum Workhouse Infirmary. Death was due to endocarditis and double mitral disease.
John's army papers have not survived, so it is difficult to detail his army career. As he was previously at the Infantry Base Depot, it is possible that he was called up soon after war was declared. John died on 19 April 1917, during the spring offensive, and his name is listed on the Arras Memorial, Bay 5 and 6. He was eligible to receive the British War Medal and the Allied Victory Medal.