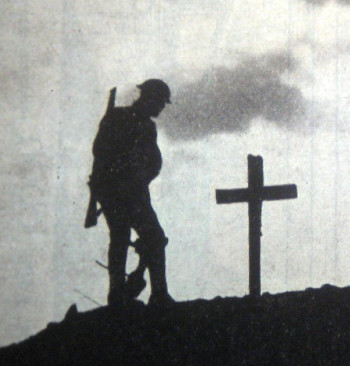 Peter Joseph Rahill
Lt 5th Btn Cheshire Regiment, transferred to Royal Air Force
Died: 02-06-1918 age 20
Peter was the eldest child of Captain James Joseph Rahill and his wife Margaret, who had married in Kilkenny in 1896. Their eldest child, Peter Joseph was born in Cork City on 14 June 1897. The family moved to Chester around 1900 and it is here that the rest of their children, Mary Agnes, Austin, Francis, and Kathleen May were born. They were all baptised at St Francis'. At first the family lived at 22 Whitefriars but by 1911 they had moved to 34 Gladstone Avenue.
The children attended St Werburgh's Schools, even though they were living in St Francis' Parish. However, Peter did not complete the whole of his education in Chester. He later transferred to the Franciscan College at Crescent Road, Cowley, near Oxford and was there when the 1911 census was taken. He must have come back to Chester soon afterwards because he states on his enlistment papers that he worked as a clerk in the Army Accounts Department, Western Command, in Chester, from 1912 to 1915.
On 4 December 1915 Peter enlisted with the Royal Engineers at Chester, age 18. He gave his address as The Bungalow, Duke Street, Chester. His number was 142898. At some stage he transferred to the Cheshire Regiment and whilst with them he applied in 1917 to join the Royal Air Force.  He gave his father James Joseph Rahill as his next of kin and his father's address as 8th Btn Royal Defence Corps, Pearsons Park House, Hull.
Peter was posted to Reading, one of the two main training centres for flying officers, on 14 December 1917. He was stationed at the Infantry and Artillery School until 4 February 1918 when he became part of 37 Training Squadron. On 25 May 1918 he became a Flying Officer and was transferred as such to A and I C.S. on 30 May 1918.  His special qualifications were stated as Army Signal Instruction and French. Peter was killed on 7 June 1918 in a tragic flying accident at Worthy Down Aerodrome, near Winchester. This aerodrome was infamous for its challenging uphill landing sites.
Peter's body was brought to Chester for a requiem Mass in St Francis' followed by interment in Grave 561 at Overleigh Cemetery. The interment was attended by members of Peter's family and friends and also his fiancée, Miss Violet Foden. As Peter flew no missions abroad, he was not entitled to receive any campaign medals. His name is on the Memorial Board in Chester Town Hall and in St Francis' Church, Chester.